Do you know what happens when Jupiter transits Aquarious on the 20th of November? Are you interested in knowing what the lucky planet has in store for your zodiac sign? What will be the effects of the movement of this planet on your personality, health, wealth, and future? Jupiter transit 2021 predictions may open a new chapter or close an old chapter in your life. Astrology is firm about that, are you? Read on, to know some interesting facts.

Jupiter- The Planet

Jupiter is the fifth planet orbiting around the sun. According to Vedic Astrology, Lord Vishnu rules the planet. Therefore, it brings luck, health, and wealth on its natives. This planet brings creativity, interest in higher learning, determination towards achieving goals. It also leads to spiritual inclination. In fact, you can describe this planet as 'Reasoning Planet' and leading to expansion of good things in life.
If it is at the correct position in your birth chart, it will bestow you with the value that the world will cherish. Values like respect for parents, academic excellence, practicality, and courage. It takes Jupiter 12 years to complete a circle around one zodiac sign. Jupiter rules Sagittarius and Pisces. It is also known as Brihaspati in Hindi. The positive effect of Jupiter makes a person lucky, fortunate, religious, happy, successful and generous. The planet is synonymous with learning and teaching. Hence, it is also called Guru (in Hindi). This refers to one with immense knowledge.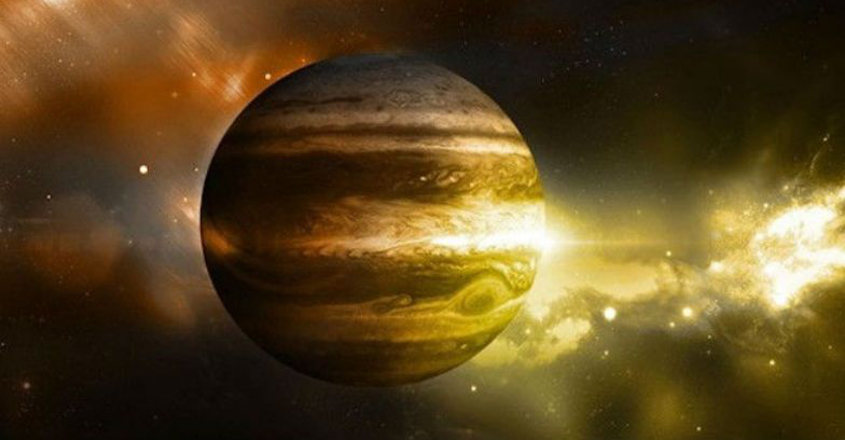 When Jupiter is in a malefic state then it leads to emotions like pessimism, depression, and exhaustion. Yellow sapphire or Pukkraj ( in Hindi) is the lucky gemstone of Jupiter. In addition, this planet has the power to reduce the ill effect of all malefic planets. Vedic astrology says that it is especially important for a woman because it blesses with stable husband and a happy married life. 
Jupiter Transit Dates
Jupiter will transit and enter Aquarious sign on 20th November 2021 at around 7.14 Pm. On 18th April 2022, it will enter the Pisces Sign around 5.00 pm in the evening. Brihaspati will turn retrograde on July 29th 2022 in Pisces and then becomes direct in Nov. Jupiter transit effect on rashis will be significant. Let's study the Jupiter transit predictions for 2022.
Jupiter Transit Effects On Zodiac Signs

Gemini – Jupiter will transit in the Ninth house from the Natural Zodiac Sign of Aries Zodiac sign in 2022. This transition will be blissful for you.
Effects:-
A baby might arrive in the family
You might earn respect in society for your hard work
Family life will improve
Professional life will see success
Financially you might become strong
Pilgrimage is on the chart and also increase in spirituality
Cancer – Jupiter enters the eighth house from Cancer. This might not turn fruitful for Cancer.
Effects are:
Professional life may not give you results as per expectations
Stomach problems might disturb you
Though travel is on the chart but will not be healthy
Spirituality will give you happiness.
Leo- Jupiter will stay in the seventh house from leo Zodiac sign. Jupiter transit astrology predicts that this transition will bear positive effects on Leo.
Effects are:-
Financial stability.
Assures quality and comfortable life with family and friends.
Good and jolly behaviour will win people around.
Marriages can take place
Good and peaceful spouse
Virgo – Jupiter will transit in the sixth house from Virgo Zodiac sign and this might not be beneficial. Anyhow, these are just prediction.
Effects:-
High-stress levels
Troubles in married or love life are on the chart.
Might get into a financial loan for business.
Good for a student's academic life.
You might get the job you wanted for a long time.
Libra – Jupiter will be transit in the fifth house for Libra. Since, this house is related to pleasure, art, and creation you will bask into fruits of these talents. 
Effects:–
A baby is expected.
New associations with influential people will get you to work.
Growth and professional success are for certain.
Property or a vehicle investment is on the chart.
Scorpio – The fourth house of Scorpio Zodiac sign will be ruled by Jupiter after the transit. You might have to gear up for some hard times and good times ( a mixed result) during the tenure of this transit.
Effects:-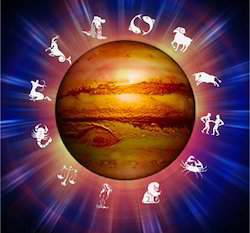 Might face a disturbing life without any reason.
 Confrontations and conflicts with loved ones, friends or family members can be damaging.
Trusting people may lead to harm.
Luxurious home can be expected.
Spirituality will give you comfort.
Married life will be in trouble.
Sagitarious – Jupiter will transit in the third house for Sagitarious. This transition may be beneficial for entrepreneurs and new beginnings.
Effects:-
Even the established entrepreneurs might start new due to this transition.
An irresponsible nature will act as a roadblock in the way of growth.
Change your residence is on cards.
Capricorn- Jupiter will inhabit the second house in capricorn horoscope leading to favourable results.
Effects:-
Luck will be on your side.
Financial gains will increase.
The family will help you in your growth and progress.
Married life will be great.
You will take up religious activities and organize grand pujas at your home.
Aquarious – The transition of Jupiter will be beneficial for Aquarious Zodiac sign. It will reap great benefits and rewards for this sign.
Effects:-
Students perform wonderfully
Love life and married life will be charming and happy.
Conflicts with loved ones might disturbance peace of mind.
Financial problems.
Pisces – Jupiter takes hold of the 12th house bringing positive effects.
Effects:-
Improvement in married life
Interest in earthly possessions and luxuries will reduce.
In spite, there will be a lot of opportunities to accumulate wealth.
Aquarius – 11th house of Aquarius will be boarded by Jupiter in 2019. Leading to favourable results.
Effects:-
Your profits will manifold.
A happy married life is on the chart.
You will be healthy from body and mind.
Long term benefiting opportunities will surround you.
Pisces – Jupiter will transit in 10th house for Pisces Zodiac sign. This brings positive effects for all the people under the umbrella of this sign.
Effects:-
Family life will be filled with happiness.
Financially you will be in a secure position
Mother's health will improve.
Change of residence is on Cards
Jupiter Transit Moon Sign Predictions

In cases of both moon and sun signs, Jupiter will transit the same house but their effect might or might not be different.
For Aries natives, the Jupiter transit in 9th house is auspicious. You may visit a religious shrine or bend towards organizing a religious function. Besides, you are likely to travel to a foreign country. However, there might be some roadblocks.
The transit of Jupiter in the 8th house for Taurus natives will give moderate results. There can be gastric issues. In fact, if you have a heart ailment, you will recover soon. Financial satisfaction will make you and your spouse happy.
Jupiter transits in the 7th house of the Gemini sign. You will enjoy a luxurious time with your partner and resolve old differences. Besides, you are going to make important decisions for the future. Health will be good.
Jupiter will transit Cancer in the 6th house. This will result in both positive and negative effects. Fulfilment of debts will be difficult. There can be tough competitors. In spite, you may get an opportunity for a better job.
Jupiter in the 5th house of Leo indicates positivity and prosperity in professional matters. You will overcome health-related problems, and enjoy proper sleep.
Jupiter in the 4th house of Virgo sign is not a favourable situation. You might not face cooperation from your family members and colleague. But at the same time, your career or business will make good progress.
3rd house of Libra sign will be inhabited by Jupiter after transit. This may not be favourable. Since this house stands for hard work and determination, you will feel indecisive or lack the capacity to make professional decisions.
Transition Effects Continued
Jupiter will transit Scorpio in the 2nd house. This will benefit you in financial matters. You will get good money as luck will favour you. Some unexpected financial benefits might also happen
Jupiter transits 1st house for Sagittarius natives, It is full of rewards for this sign. Relationship, health, wealth all of them will see growth and bounty.
Jupiter transit Capricorn in 12th house. The happenings will be average. There will travel abroad, financial benefits and good partnerships.
Aquarian 11th house will have a transition. And you will enjoy a good time with your loved one, whether you are married or otherwise. Success at work front will bring celebrations.
The transiting Jupiter will be moving over to the 10th house of Pisces. This will strengthen your family relations and bring growth in career.