Swami Sivananda Saraswati was a spiritual teacher of Vedanta as well as Yoga. He started his career as a doctor and practised for a decade before he turned to the full-time pursuit of his spiritual journey. He was born in Tamilnadu but since he also spent most of his life in Rishikesh he is associated with the place.
Swami Shivananda Saraswati practised, taught and wrote about both Vedanta as well as Yoga. He established the Sivananda Ashram and also founded the Divine Life Society (DLS). The form of Yoga that he practised and taught; Sivananda Yoga was popularized by his disciple Vishnudevananda. It is now practised around the world and taught by Sivananda Yoga Vedanta Centres. Swami Shivananda was also a very prolific writer. He wrote over 200 books on Vedanta as well as other subjects.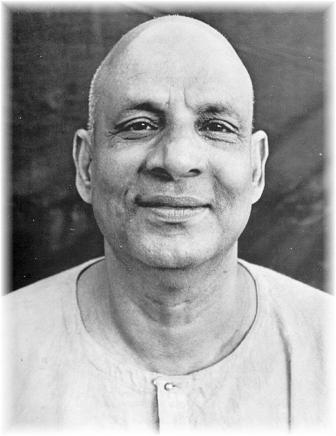 Early Life

Swami Sivananda Saraswati was born on 8th September 1887 in Pattimadai, Tirunelveli. This village is located on the banks of the Tamraparni river. He was born in the Nakshatra of Bharani. He was named Kuppuswami and was the third son of his parents. Kuppuswami's father P.S. Vengu Iyer was a revenue officer and a descendant of Sri Appaya Dikshitar. He was a great devotee of Lord Shiva. Kuppuswami's mother Parvathi Ammal was also a very religious woman. Kuppuswami was brought up in an atmosphere of spirituality and would accompany his parents in their worship of Lord Shiva.

The young Kuppuswami was an excellent student and gymnast as well. He did his schooling in a local school and then went on to study medicine in Tanjore. He started a medical journal called Ambrosia. Kuppuswami was a keen student of medicine and spent his holidays at the hospital learning more about the field. Even as a medical student there was a strong sense of spirituality in him.

Service In Malaya
Kuppuswami's family were very devout Brahmins for whom going overseas was a great sacrilege. But, Kupuswami worked as a physician in British Malaya for ten years. Even away from his homeland, he continued his daily prayers and spiritual practices such as Anahat Laya Yoga and Svara Sadhana. He was known to be a doctor who would treat poor people for free. He continued improving his skills and knowledge of medicine. Through hard work and generous nature, he endeared himself to the people there. He also published books on medicine and articles for the local papers. However, he felt dissatisfied with the fact that medicine only healed a person superficially. He then left Malaya in 1923 in order to pursue his spiritual journey.
Initiation As A Monk
When Kuppuswami came back to India he went to Benares and had Mahant of the Sri Kailas Ashram, Sri Vishnudevananda conducted the initiation ceremony. Swami Shivananda then practised austerities and intense spiritual practices. Swami Shivananda believed that a Guru is essential for spiritual progress. He emphasised that the Guru cannot work miracles and progress the student. It is the student's work to pursue the necessary Sadhana to progress but the Guru can show the way and remove the obstacles.

Swami Sivananda believed that service to the poor and needy purifies the souls. He ran a small dispensary at Lakshman Jhula to serve the pilgrims who were en route to Badri-Kedar. To keep himself in good health he went for long walks and also practised Asanas, Pranayamas, Mudras and Bandhas. He spent a lot of time in his Sadhana. When he spent time with great spiritual people he spent it in silence rather than indulging in debates.

Swami Shivananda moved to the Swargashram and lived in a small Kutir so he could spend more time in spiritual practices. Even here he used to devote a portion of the day to tend to those in need of medical services. He attracted many people who flocked to him for advice. He even locked the entrance to his Kutir for a while. Swami Sivananda founded and registered the Swargashram Sadhu Sangha an organisation to address the grievances as well as other issues of the Sadhus.

Pilgrimage And Travel

Swami Shivananda then undertook travels and pilgrimage across the country. He visited many holy places and also met with many spiritual leaders. He held Sankirtans and gave many lectures during his travels. In the south, he visited the Rameshwaram temple and Sri Aurobindo's Ashram. He also met Ramana Maharishi at his ashram. Swami Shivananda met him on the Maharishi's birthday and sang and danced with his disciples. He also visited Kailash Manasarovar, Kedarnath and Badrinath.

Throughout his journeys, Swami Shivanada kept up with his writing and correspondence. In 1931 he fulfilled his lifelong wish to visit Mount Kailash.

Tours And Organisations
In 1936 Swami Shivananda founded the Divine Life Society on the banks of the River Ganges by distributing literature on spirituality for free. One of his early disciples was Satyananda Saraswati who was also later the founder of Satyananda Yoga.

Swami Shivananda founded many noteworthy organisations
1945: Sivananda Ayurvedic Pharmacy
1945: All-World Religions Federation
1947 All-World Sadhus Federation
1948: Yoga-Vedanta Forest Academy
1957: Sivananda Eye Hospital
Swami Shivananda undertook an All-India Ceylon Tour in 1950. He was overjoyed with the love and welcome he received wherever he went. He convened the Parliament of Religions in 1953. Swami Shivananda also spoke in many educational institutions and universities to spread the message of ethics, Hindu philosophy and world peace. He performed Bhajans and also Kirtans wherever he went.

Integral Yoga: Yoga Of Synthesis

Swami Shivananda practised a Yoga of Synthesis. He called it so because it aimed to blend all the four Yogas that are defined in Hinduism; Karma Yoga, Bhakti Yoga, Jnana Yoga and Raja Yoga. Karma Yoga is the yoga of action, Bhakti Yoga that of devotion, Jnana Yoga of knowledge and Raja Yoga that of meditation. His focus was not purely on theory but also on applying knowledge practically in life. He taught that Karma Yoga would purify heart and mind, that Hatha Yoga gave physical well being, Jana Yoga the ability to self analyse and knowledge while Raja Yoga gives concentration and psychic control. This would remove the veil of ignorance and also ultimately lead a person to their Sachitananda Swaroopa.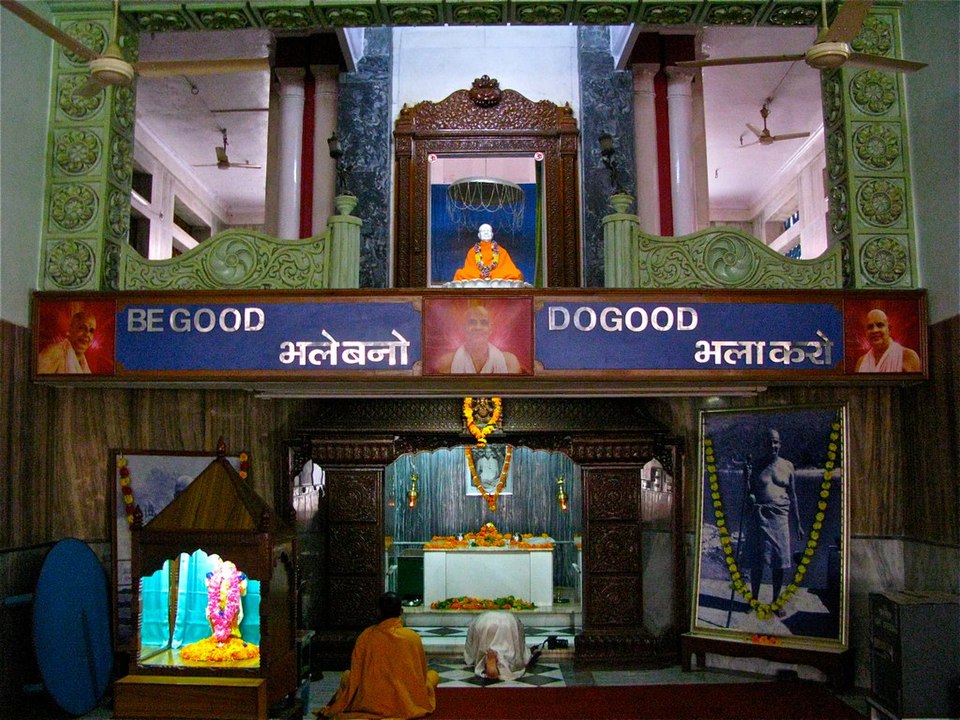 Knowledge For All
His principles attracted many people and disciples from varied walks of life. He did not believe that the traditional knowledge of Yoga should be accessible to a select few. He sought to bring its essence and practices to every single person. Swami Shivananda sought to integrate Vedanta and Yoga into daily life to help people improve their character and their lives. He taught it as a practical subject. He taught his disciples to use it as a tool that could improve and expand the head, heart and hands of a person. By this, he meant that a person could use the tools of Yoga to improve their intellect, emotions and daily actions as well as expressions.
Swami Shivananda did not just teach. He lived his life as an example of his teachings. He taught and lived an eightfold path of service, love, giving, purification, being good, doing good, meditation and realisation. This Ashtanga Yoga is the map that he laid out for his disciples to improve themselves, their families as well as society. He also encouraged people to practice Likita Japa or writing of mantras in silence as a form of prayer.
DLS- Divine Life Society

The two main disciples of Swami Shivananda who helped with his organisations were Chidananda Saraswati and Krishnananda Saraswati. Swami Shivananda appointed Chidananda Saraswati as the president of the DLS in 1963. He remained the president till his death in 2008. Swami Shivananda appointed Krishnananda Saraswati as the General Secretary by Sivananda in 1958. He held the post till his death in 2001.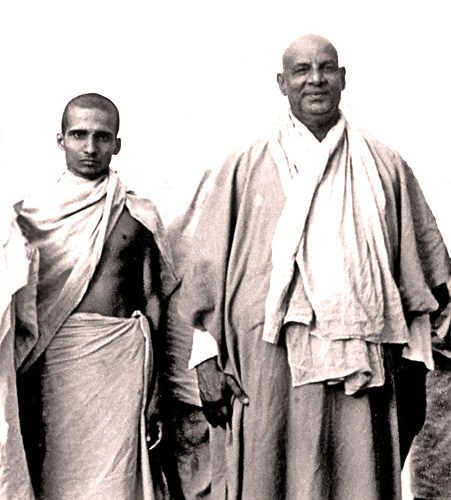 Noteworthy Disciples
He had many other disciples who in turn went on to found or run many organisations.

Chinmayananda Saraswati: Chinmaya Mission
Sahajananda Saraswati: Divine Life Society of South Africa
Satchidananda Saraswati: Integral Yoga Institutes
Satyananda Saraswati: Bihar School of Yoga
Vishnudevananda Saraswati: Sivananda Yoga Vedanta Centres in Canada
Sivananda Radha Saraswati: Yasodhara Ashram in Canada
Shantananda Saraswati: Temple of Fine Arts in Malaysia as well as Singapore
Venkatesananda Saraswati: Ananda Kutir Ashrama in South Africa and Sivananda Ashram in Fremantle, Australia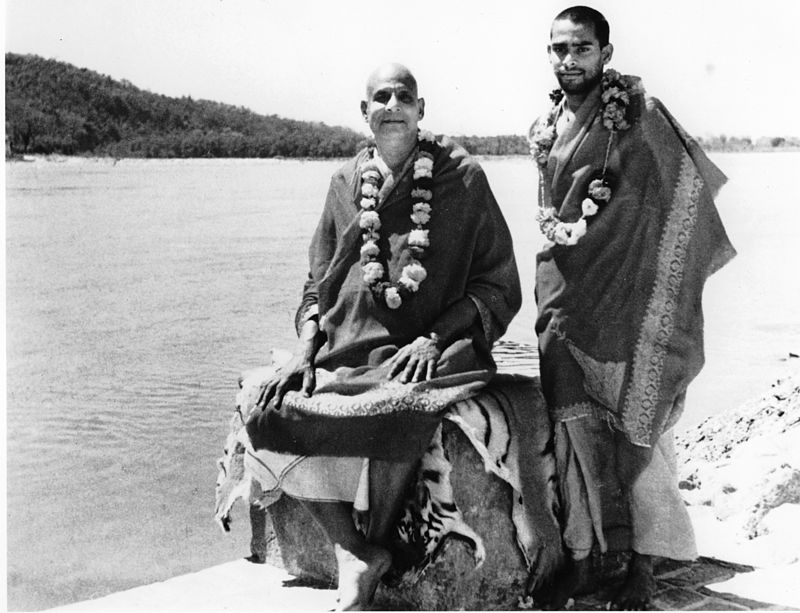 Books And Other Works
Swami Shivananda was a prolific writer. He worked on many different forms of writing and also wrote on varied subjects. Swami Sivananda Saraswati books number 296 and are on subjects that range from fine arts to ethics and metaphysics. He wrote books, stories, lectures, plays as well . There are many quotes that are attributed to him. His aim was to give the common man the knowledge to apply the principles of Yoga to their lives to be healthy and also attain peace of mind. 

Death
Swami Sivananda passed away on 14 July 1963 in Sivanandanagar on the banks of the River Ganges.