Got a visa problem? No need to worry, Visa Wale Hanuman Ji will help you. Yes, this is possible at Visa Hanuman temple in Ahmedabad, Gujrat. This temple is 400 years old. This temple is located in the narrow lanes of Desai ni Pol of Khadia. Additionally, the Khadia Hanuman temple Ahmedabad is famous for ensuring that visa applications of the devotees are accepted. This temple is also known as Chamatkarik Shree Hanumanji Mandir.
Legends of Visa Hanuman

The Ramayana from Hindu mythology talks about Lord Hanuman flying between two countries. We've all heard stories about Lord Hanuman flying to Sri Lanka to find Sita. We've also heard of Hanuman air-lifting the Sanjeevani mountain to save Laxman from his war injuries. Thus, there is a popular belief among the devotees that Lord Hanuman approves the visa without any hassles or extra fees.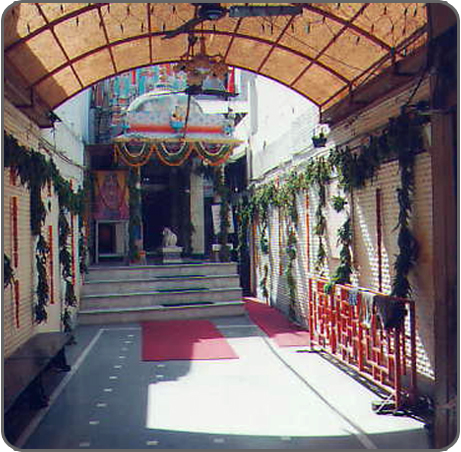 Devotees seek blessings from Lord Hanuman by placing their visa documents and other offerings in a tray in front of the idol in the sanctum. Also, every Saturday, thousands of visa-seekers gather at this temple to pray for visa approval.

History of the temple

Around 400 years ago, a temple of Mahadevji existed here. Shri Bapuji Mahasukhram took the responsibility of renovating this temple. However, only Mahaykshram's family members could worship here. The temple was not accessible to the general public. A few years later, Shri Bapuji Mahasukhram installed the idol of Chamatkarik Hanumanji in this temple. Since then the devotees' faith has grown stronger in the Khadia Hanuman temple.

Visa Hanuman Temple Ahmedabad Timings for Darshan
Darshan timings of Visa Hanuman temple are from 7:00 am to 12: 00 pm. In the evening you can visit from 4:30 pm to 7:30 pm. A huge crowd gathers near the temple premises every Saturday. On Saturdays, the timings are from 7:00 am to 10:00 pm.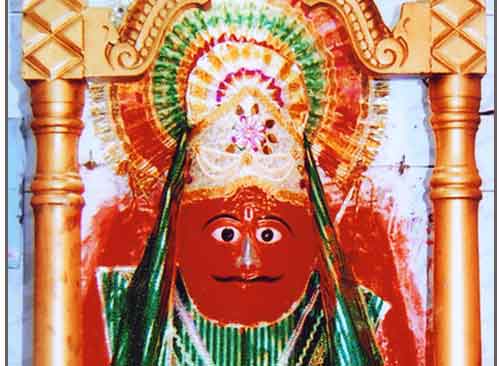 Nearby Attractions

CG Square Mall – CG mall is located in the heart of the city. It is 3.6 km away from the temple. The mall is a popular shopping hub for clothing, footwear and eateries. It is also popular for kids activities.
Sabarmati Ashram – The Sabarmati Ashram is located 6.7 km from the Visa Hanuman temple. The ashram sits on the banks of the Sabarmati river. The ashram was established in the year 1915. Mahatma Gandhi resided at this ashram till 1930. It also includes a museum called Gandhi Smarak Sangrahalaya.
Kankaria Lake – Kankaria Lake or Hauj-E-Kutub is just 2.8 kms from Visa Wale Hanuman Ji shrine. It is one of the largest lakes of Ahmedabad. In the 15th century, Kutubuddin built this lake. This lake once had a water purification facility.
Sabarmati Riverfront – The Sabarmati riverfront is located 4.5 km away from the Hanuman temple. Additionally, the main attraction of this riverfront is the spectacular walkway above the Sabarmati river. You can also enjoy a beautiful view of the city from here.
Sarkhej Roza – Sarkhej Roza is a mosque and tomb complex situated in the Makarba village. It is 11.1 km away from the Hanuman temple. This popular tourist attraction is well-known for its architecture.
How to Reach Visa Hanuman Temple
You can plan your journey to the Visa Hanuman temple by various modes of transport. Railway stations close to Khadia are the Ahmedabad Junction Railway Station and the Gandhigram Railway Station. Buses to Khadia are also available from Raipur Chakla, Raipur Arwaja, Raipur Darwaja, and Aas-Dia Chala. There are also buses at frequent intervals from the Khadia bus station.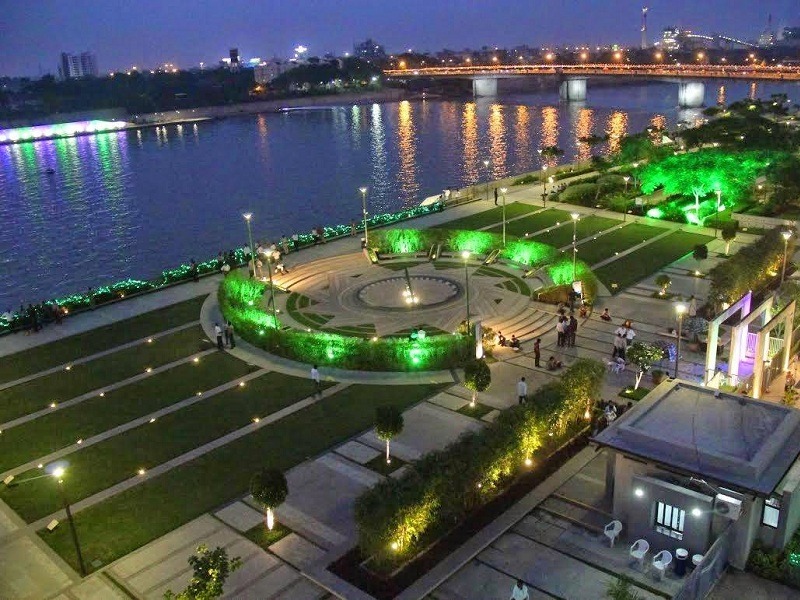 Hotels near the temple
Hotel El Dorado, Fortune Landmark, and Hyatt Regency are some of the popular hotels near the temple. These hotels provide convenient facilities that include free parking, complimentary WiFi, TV and air-conditioned rooms with a telephone. The on-site restaurants offer a variety of foods and beverages. Popular tourist attractions are also in the vicinity of these hotels.

If you are planning a trip abroad, make sure you go to Visa Wale Hanuman Ji Ahmedabad. You can also visit this place to witness the undeterred trust and faith of the devotees in the powers of Lord Hanuman. Also, many job aspirants seeking opportunities in foreign countries visit this temple to seek blessings.