Kukke Subramanya Temple vibrates a mystical aura. If a pilgrimage is on your mind, then this historic temple, located in Subramanya Village, should be a priority on your list. The temple is the abode of Lord Subramanya, the king of snakes and the son of Lord Shiva.

Kukke Subramanya Swamy Temple is one among the numerous famous temples in South India that has empowering effects on devotees. The temple is in the middle of bountiful greenery of the thick forest with Kumaradhara River flowing across. Besides, the temple overlooks the awe-inspiring Kumara Parvatha, the highest mountain peak in the Western Ghats popular for hiking. Adjacent to it is the famous Shesha Parvatha that grabs your attention with its cobra-like structure protecting the shrine. Kukke Subramanya Swamy Temple Darshan Timings are from 6:30 AM to 1:30 PM, and from 3:30 PM to 8:00 PM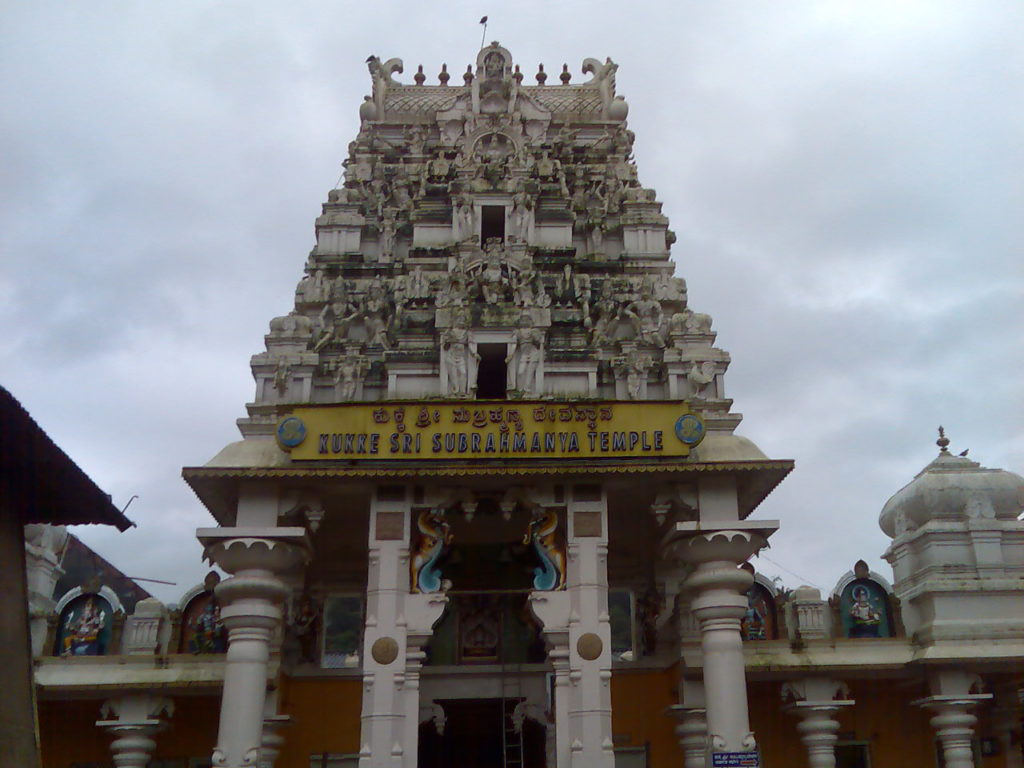 Kukke Subramanya Swamy Temple History
Subramanya is the refuge of Vasuki the king serpent. Biladvara is a large cave where Vasuki had to emit poisonous vapours to prevent Garuda from killing him. You also learn that Adi Shankaracharya found his sojourn in the temple while on his philosophical expedition. Besides, the Skanda Purana reflects how Karttikeya was the Senapati of demigods. Subramanya vanquished the asuras and decided to stay here. Shanmuka appeared before Vasuki and blessed Vasuki to stay at Subramanya for eternity. Hence, any offering to Vasuki is equal to the offering made to Lord Subramanya too.
Authorization
Moroja family, Sthanaka and Tulu Brahmins were the chief priests up to 1845. After that the Madhvas gained authority and built a mutt near the temple.

Interesting Facts About Kukke Subramanya Swamy Temple

Kukke Subramanya is one among several holy places created by Parashurama
The soil of the snake hill is given as Prasad called "Mruthika Prasada"
Additionally, there is a belief that this prasad can cure several illnesses
Pure silver covers the Garuda Pillar at the entrance
The main shrine of the temple is an inspiration of the Kerala Style
The temple belongs to Samputa Narasimha Subramanya Mutt
Devotees take a dip in the Kumaradhara River before heading to the temple for darshan
Kukke Subramanya Swamy Temple Timings range from 5 AM to 9:30 PM with several daily rituals followed by night meals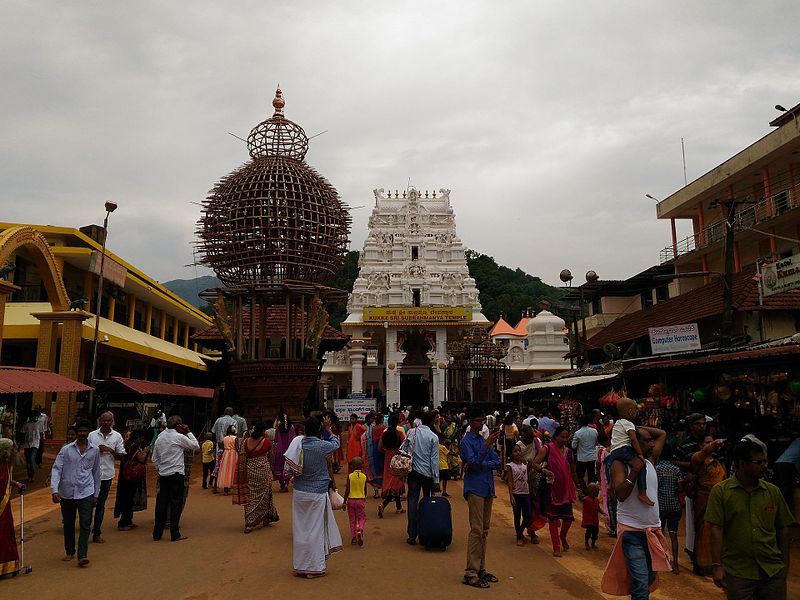 Religious Significance of Kukke Subramanya Temple
Kukke Subramanya Swamy Temple Karnataka is one of the seven mukthi sthalas in Karnataka. If you read Subrahmanya Mahatmaya, you'll also know that Lord Subramanya positioned a Shiva Linga in three different locations around this temple. There were gods and goddesses too who followed suit and installed smaller lingas. Hence, over a period of time these lingas were collected and preserved in the temple for worship.
Importance of the Worship
A standout significant factor of the temple is it relieves you from Sarpa Dosha. Ashlesha Bali Pooja and Sarpa Dosha Pooja help you get rid of Kaalasarpa Dosha. Sarpa Samskara Pooja helps relieve prolonged ailments, skin diseases, infertility, and blindness.

Therefore, it's performed by those individuals affected by Sarpa Dosha. It results from a curse due to the person harming a snake in either this or previous birth. Hence, Sarpa Dosha and Ashlesha Bali help devotees relieve from the ill-effects of the curse. You have to stay for two days in Subramanya to perform and complete this ritual.

Travel Route to Kukke Subramanya Swamy Temple
The temple is 120 KM from Mangalore and, if you are travelling by air, the nearest airport is Bajpe International Airport. There is also the Subramanya Railway Station located at a distance of 12 KM from the temple. It connects major locations across South India. For those travelling from Karnataka, KSRTC buses provide the ease of convenient travel.

Points of Interest
On the way to the temple, you can also stop at prominent locations to visit major temples. Sowthadka Shri Mahaganapathi Temple is only 3 KM away from Kokkada Town. You can also visit Somnatheshwara Temple that is located at just 2.5 KM from the temple.
The famous Sri Manjunatha Temple in Dharmasthala, situated just 55 Km from Kukke Subramanya, and therefore, is a must visit.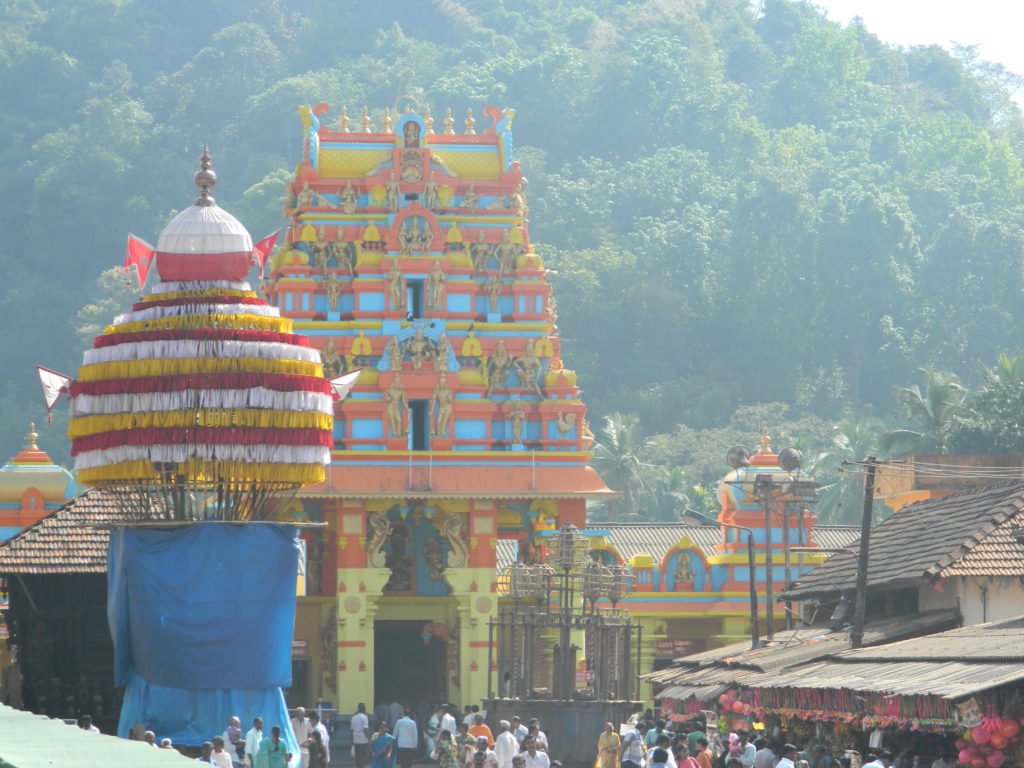 Staying in Kukke Subramanya
Devotees can lodge conveniently in one of the numerous guest houses belonging to the temple. Additionally, there are several hotels and lodges in Subramanya Town that offer convenient facilities for a very reasonable price.

A trip to Kukke Subramanya Temple gives you that deep intrinsic feeling of spirituality that refreshes your mind and soul. If a pilgrimage is your passion, a visit to this part of Karnataka also ensures a new level of satisfaction with newfound rejuvenation.