The Thirunageswaram Naganathar temple is dedicated to Lord Shiva. This temple is one of the Navagraha Sthalas, where people come to pray and also to seek relief from Navagraha Doshas. This temple is in Tamil Nadu.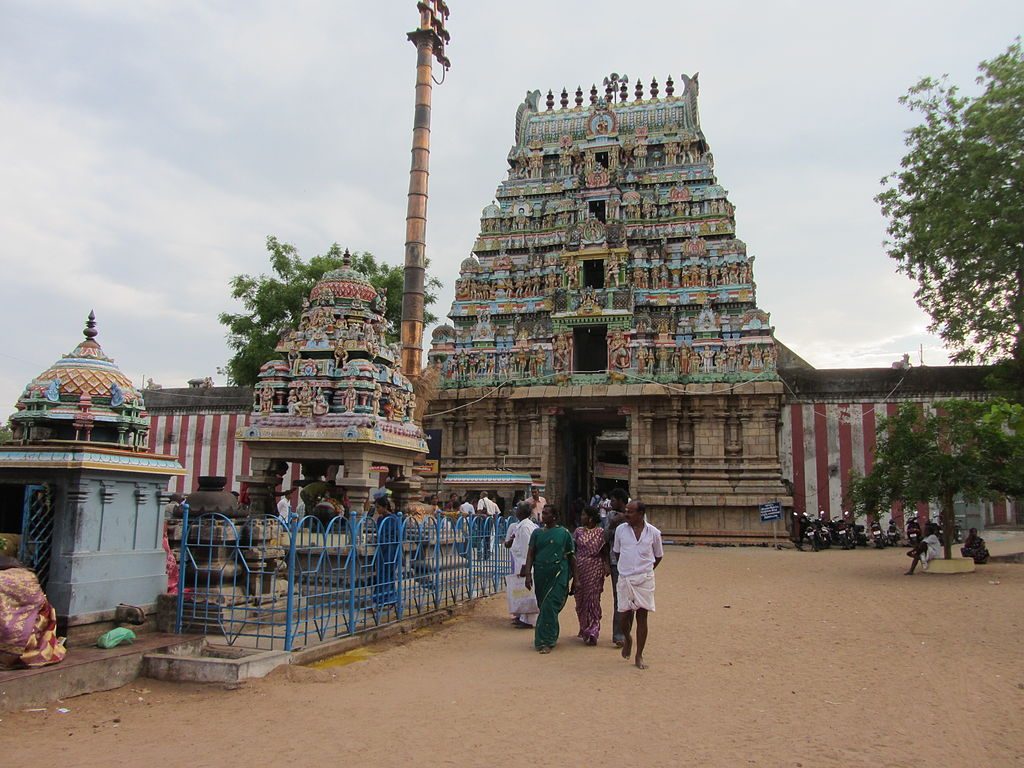 The Naganathar temple is a Rahu Sthalam. Here you can seek respite from Rahu Dosha which causes problems like delay in marriage, not having children and the like. Here, the main deity is Shiva as Naganathar, the lord of snakes.

Thirunageswaram Naganathar Temple History

Aditya Chola – I built this magnificent temple with four entryways in the 10th century A.D. Nayak kings later expanded the complex. The Nayak rulers also added several of the pillared halls. Govinda Dikshitar, a minster to Nayak rulers, constructed the hall in the second prakara, in the late 15th to the early 16th century.
The great Advaita saint Sadasiva Brahmendra constructed the Ganapathy shrine near the Eastern entrance. He also installed a Ganapathy yantra in the shrine.

Some Interesting Facts About This Temple

Location of the Temple: This temple is located in the Thirunageswaram village near Kumbakonam in Tanjore district of Tamil Nadu. This temple is just 5 km away from the Kumbakonam Railway Station.

Major Festival: Brahmotsavam at this temple occurs during the Tamil month of Karthigai (November-December). Processions of the temple deities and divine marriage ceremonies are conducted during this festival. Another major festival at this temple is the Kanda Sashti that celebrates Lord Murugan, son of Shiva.

Temple Timings: This temple is open every day from 6:00 am to 12:45 pm. In the afternoon, the temple is open again from 4 pm until 8:30 pm.

Special Feature: Being a Rahu Sthala, the temple has a separate shrine for Rahu Bhagavan. Anyone affected by Rahu Dosha can perform a certain pooja and abhishekam for Rahu to get relief. Interestingly, the milk poured over Rahu's statue during the Abhishekam turns blue as it falls over his body.
Thirunageswaram Naganathar Temple Architecture
This temple is a fine example of Chola architecture, with four huge entryways and a concentric layout. Multi-tiered gopurams tower over the gateways, A high compound wall encloses the entire temple complex. Additionally, the third precinct or prahara houses a flower garden, on the Northern side. There is also a Ganapathy shrine, a Dwajasthambam, Nandikeshwara Hall, and Bali Peetam on the Eastern side. The Rahu shrine is located in the South-West corner. The temple pond 'Soola theertham' is located in the South, surrounded by a huge pillared mandapam.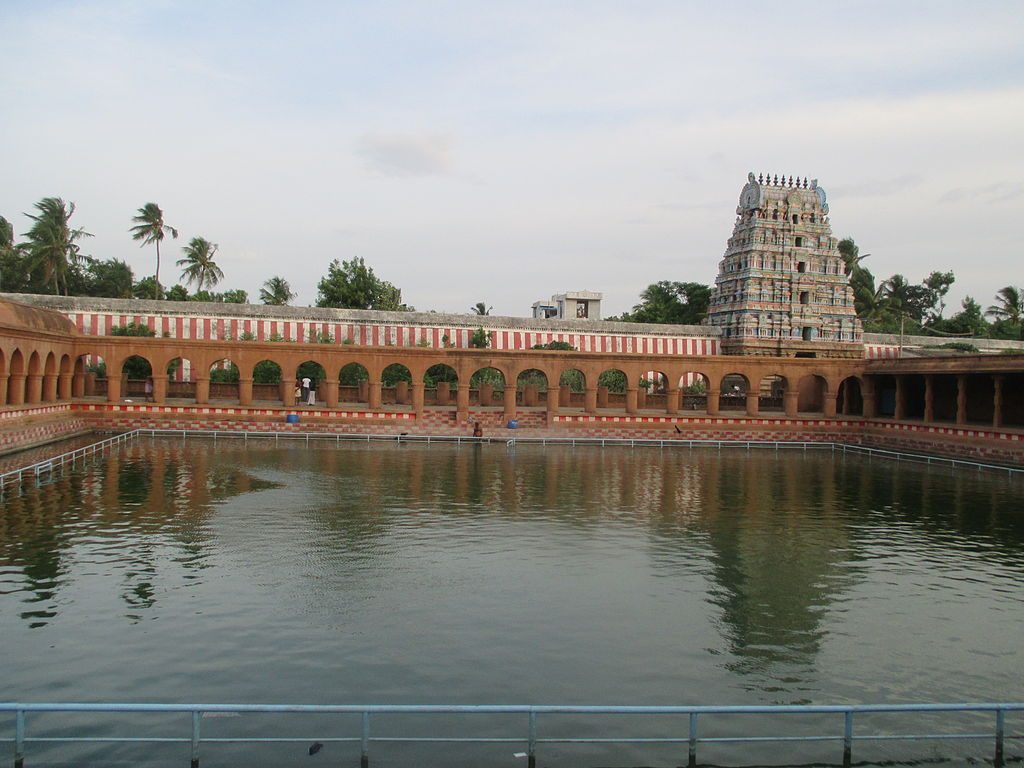 The Deities At Thirunageswaram Naganathar Temple
This temple's main deity is Naganatha Swamy. A large hall with pillars decorated with yali and other figures leads on to the main shrine. Shiva in the form of a linga is present in this shrine. There is a separate shrine for his consort Parvati. She is called Piraiyani Amman as she wears the crescent moon on her head.
She is flanked by Lakshmi and Saraswati. There is another goddess shrine here, for another form of Parvati, called Girigujambal. There is also the shrine for Rahu Bhagavan and a separate shrine for Ganapathy. Rahu Bhagawan along with his two wives, Nagavalli and Nagakanni, blesses devotees.

The Legends Of Thirunageswaram Naganathar Temple
Many Naga Devatas worshipped Lord Shiva here, hence the name, Naganathar (Lord of the Nagas) for the presiding deity. This region was once surrounded by a forest with numerous Senpaka (Champaka) trees. Adishesha, the king of the serpents, once observed penance here. Other Nagas like Karkotaka, Takshaka, and Rahi also worshipped Shiva here. Rahu himself got respite from a curse at this place. So he remains here to provide relief from Rahu Dosha to devotees who pray to him.

Parvati, as Girigujambal, is praying to Lord Shiva here. Indra worshipped Girigujambal with a fragrant material called Punugu to be released from a curse that gave him a bad odour. The temple's Sthala Purana also states that Kings Bhagiratha and Nala worshipped Shiva here, as did sages Parashara and Gautama.

Rahu Dosha Pariharam
Rahu's negative influence can cause obstacles to one's marriage, married life, or having a child. According to astrologers, devotees afflicted by Rahu Dosham can find a remedy here. Also, people who are suffering from Sarpa Dosha and Kala Sarpa Dosha can also find relief here. You can perform milk abhishekam to Rahu, especially on Sundays. You can also offer a blue cloth and urad dal.

Travel Route to Thirunageswaram Naganathar Temple
To reach this temple, you have to travel to Kumbakonam. Many major Southern Railway routes connect with this famous temple town. From Kumbakonam, you can travel by bus. You can also hire an auto rickshaw or taxi from the Kumbakonam Railway Station from where the temple is around 7 km away. You can also find several hotels places to stay at in Kumbakonam.
To Conclude

Visit this temple to get the blessings of Naganatha Swamy and Piraiyani Amman. Perform remedial worship and rituals here for getting relief from Rahu Dosha. While you are here, you can also visit another famous temple nearby – the Oppiliappan Temple.