If you are a student or a candidate waiting for the best institution to choose you, or you are a parent looking for the best career opportunities for your child, then a visit to Gnana Saraswati Temple Basar is a must for you. The blessings of Lord Saraswati, the Goddess of knowledge and power, will bestow you with knowledge and the ability to succeed.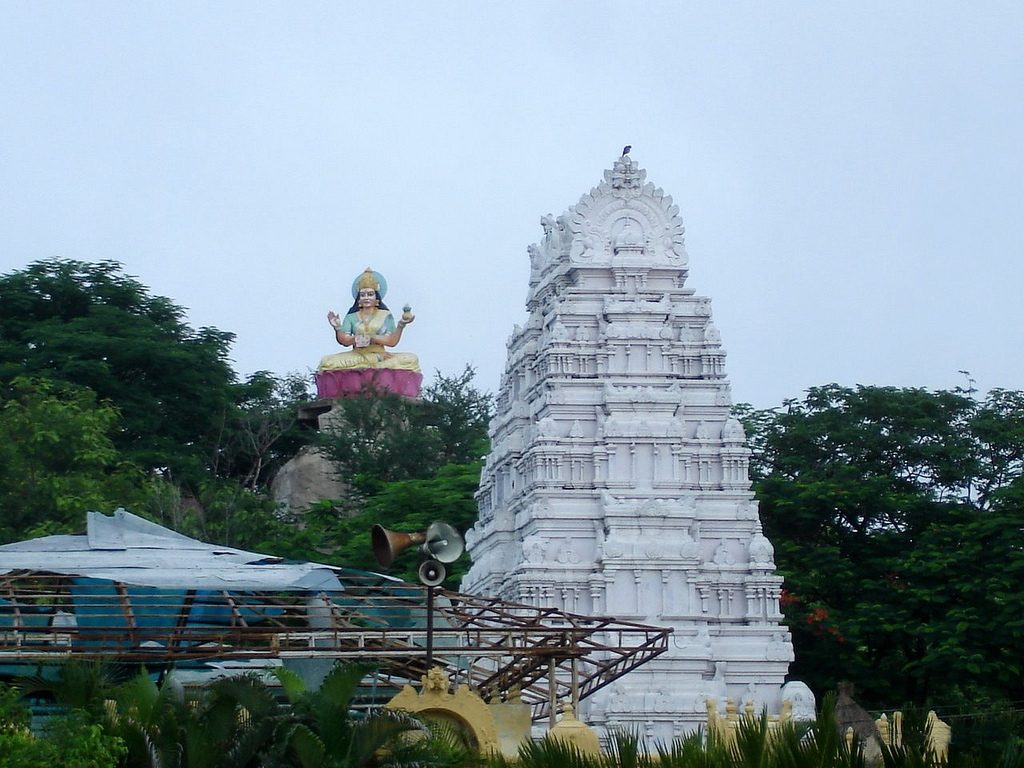 Introduction

You must come to visit the pious and historical land of Gnana Saraswati Temple Basar to receive the love and blessings of Goddess Saraswati, Laxmi, and Kali ( Tridevi) for your child and yourself.
We pray Goddess Saraswati as the Goddess of knowledge and education in Hinduism. Goddess Saraswati is the guide and mentor for a child throughout his educational life. It is only with her blessings that a child can attain premium knowledge.
History of Gnana Saraswati Temple Basar

The story of Gnana Saraswati Temple Basar begins when Ved Vyasa travelled south after the end of the battle of Mahabharata. He settled around the region of Dhandakaranya on the banks of Godavari river in Andhra Pradesh, now Telangana. He devoted his life to the worship of Goddess Saraswati. His routine was to wake up in Brahma Murath and take a bath in the serene water of Godavari River and meditate till sunset every day. He referred to Goddess Saraswati as "Paramshanthi Pradayini", chanting this name again and again.

History of the sand idols

One day, impressed with his devotion Goddess Saraswati appeared in Ved Vyasa's dreams. She ordered him to get a fistful of sand from Godavari river every day, after his sacred bath and to keep it in three heaps. After some time, the three heaps turned into three idols of Goddess Laxmi, Goddess Saraswati, and Goddess Kali.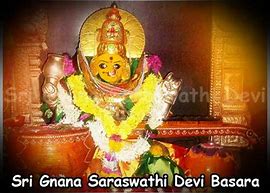 After this, Maharishi Ved Vyas laid down the foundation of Gnana Saraswati Temple Basar. The three idols were placed in the center of the sanctum sanctorum.

The Mughal invasion

Mughals tried to destroy the idols and the temple many a times between 11th and 18th century, under the reign of Hanid Shahi, Kuthub Shahi and Barid Shahi. But the brave Makkaji Patel fought them and protected our Saraswati Temple by joining forces of guerilla soldiers.

Legend of Gnana Saraswati Temple Basar G

Any follower of Hindu religion knows the importance of Saraswati Puja. Goddess Saraswati is the giver of knowledge, creativity and artistic talents. Her blessings help children attaining good academic results. Academic results determine your future, hence praying the Goddess of Knowledge becomes pertinent in India.

Akshar Abhyasam at Gnana Saraswati Temple Basar

Gnana Saraswati Temple Basar is popular for its ritual of Akshara Abhyasam. It is believed that a child must start his educational life with the blessings of Saraswati Maa. Therefore, a puja is held in front of the Devi where the child learns to write the first letters of his/her life on a Blackstone slate. The family performs the pooja and donates grains to the hermit.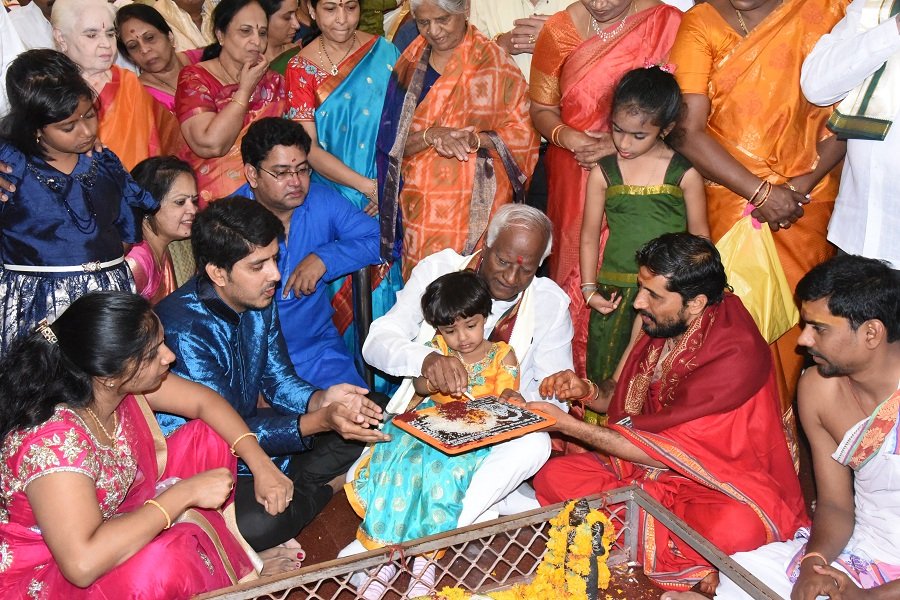 Akshara Abhyasam takes place in the morning from 7:30 till 12: 30 pm. At 12:30 pm lord is offered food and then temple closes for the break time. You can also perform Aksharabhyasam in the second half, from 2 pm to 6 pm.
Gnana Saraswati Devi Temple Basar Timings

The temple is open on all days of the week. It opens at 3:30 am and doors close at 8: 30 pm.

The temple has special timings for special occasions. Festivals like Vyasa Pournami, Dasara Navarathrulu, Vasantha Panchami and Maha Shivratri are important festivals in the temple.

Best Time To Visit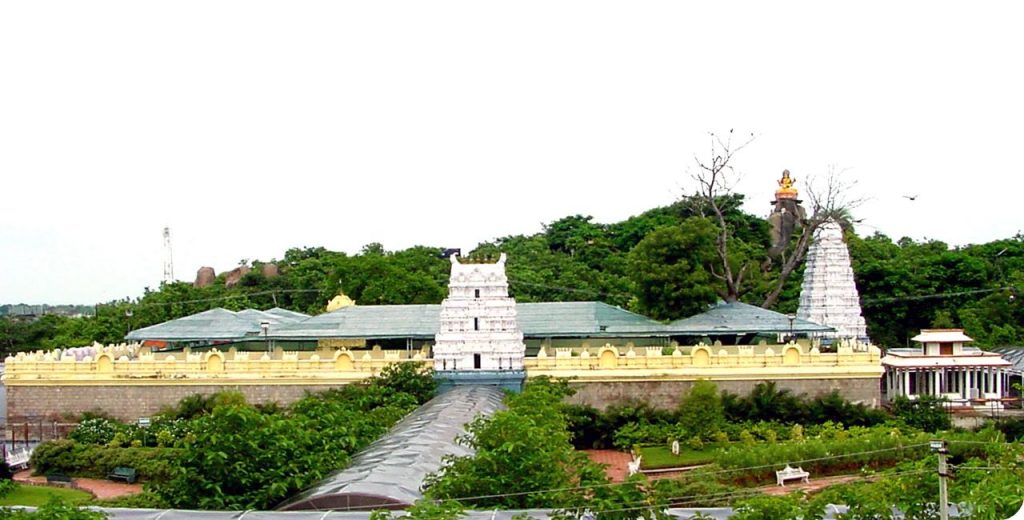 The peak season for Gnana Saraswati Temple is January and February. The Vasant Panchami falls in any of these two months, which is the best time to enjoy the fair at the temple complex as well as perform the grand puja. The weather will be cooler as compared to the other months. A visit anytime between October to March is most preferred.

How to Reach

Gnana Sarasaswathi Devi temple connects to Hyderabad by road. Buses from Hyderabad leave for Nizamabad, 150 km from Hyderabad. From there you can take buses for Basara, which is 30 km away. The other route is from Nirmal that is 210 km from Hyderabad. From Nirmal, you can take a bus or private cars to Basara. The distance from Nirmal to Basara is 70 km.
Hyderabad Airport is the closest airport to Basar. It is at a distance of 259 kms.

The Basar Railway Station is just 3 km from the temple.

Accomodation

There are various lodging facilities in the temple complex, like cottages, guest houses, etc. TTD Guest House are available at 100/- per day, while Rajanna Nilayam at 1500/- per day. There is Soma Suite at 1200/per day and Dwaraka Tirumala at 1000/- per day.

Places Nearby

There are various places to visit and enjoy near Basara temple, like the Godavari Bathing Ghats, and Ved Vyasa's Caves. There is Lord Shiva Temple 2kms from Basara. Sri Laxmi Narshima Swamy Temple is another beauty 27 km from Basara.