If you are stopping by at the picturesque lake town of Pushkar, Rajasthan, do not miss out on the iconic Brahma Temple. Situated on the banks of the holy Pushkar Lake, this temple has a rich history dating back to the 14th century.

Jagatpita Brahma Mandir, or the Brahma temple, is a Hindu temple located in the Ajmer district of Rajasthan close to the Pushkar Lake. Built out of marble with a distinctive red spire on top and a recurrent hamsa (swan) motif, Brahma temple is famous for being one of the very few temples dedicated to Lord Brahma. The Sanyasi sect of priests run this temple, which is a highly popular pilgrimage spot among Hindus. One of the key ceremonies held at the temple is Karthik Poornima, attended by thousands of pilgrims.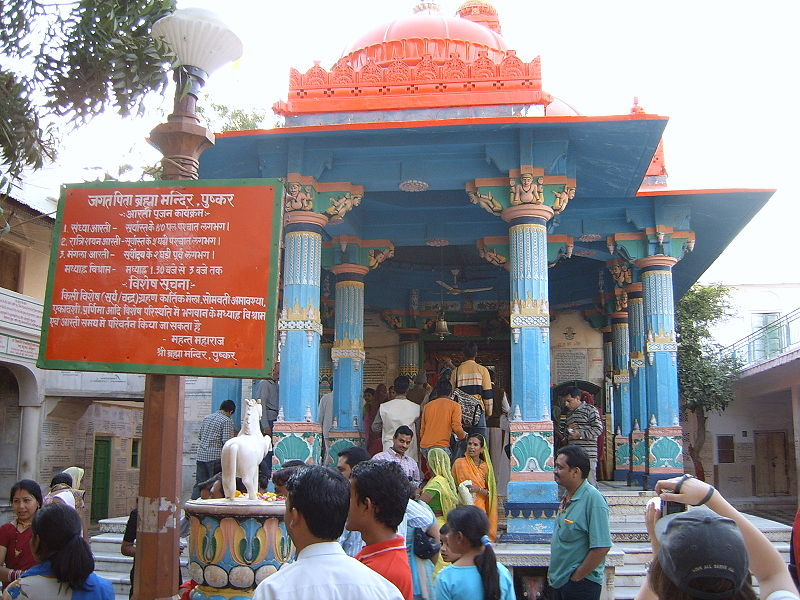 History of Brahma Temple

The Brahma Temple Pushkar history is a rich one. While originally built in the 14th century, it is said to have originated during the time of the great sage Vishvamitra over 2000 years ago. Later, Maharaja Jawat Raj of Ratlam commissioned further repairs and renovations. International Business Times has identified the temple and the Pushkar Lake as one of India's five most sacred pilgrimage sites for Hindus.

The central icon of Lord Brahma in the temple was deified by Adi Shankara in the year 718 AD. The life-size marble idol features four faces and four pairs of hands pointing in the cardinal directions. At either side are idols of goddesses Gayatri and Savitri. In addition, images of other Hindu deities adorn the temple walls.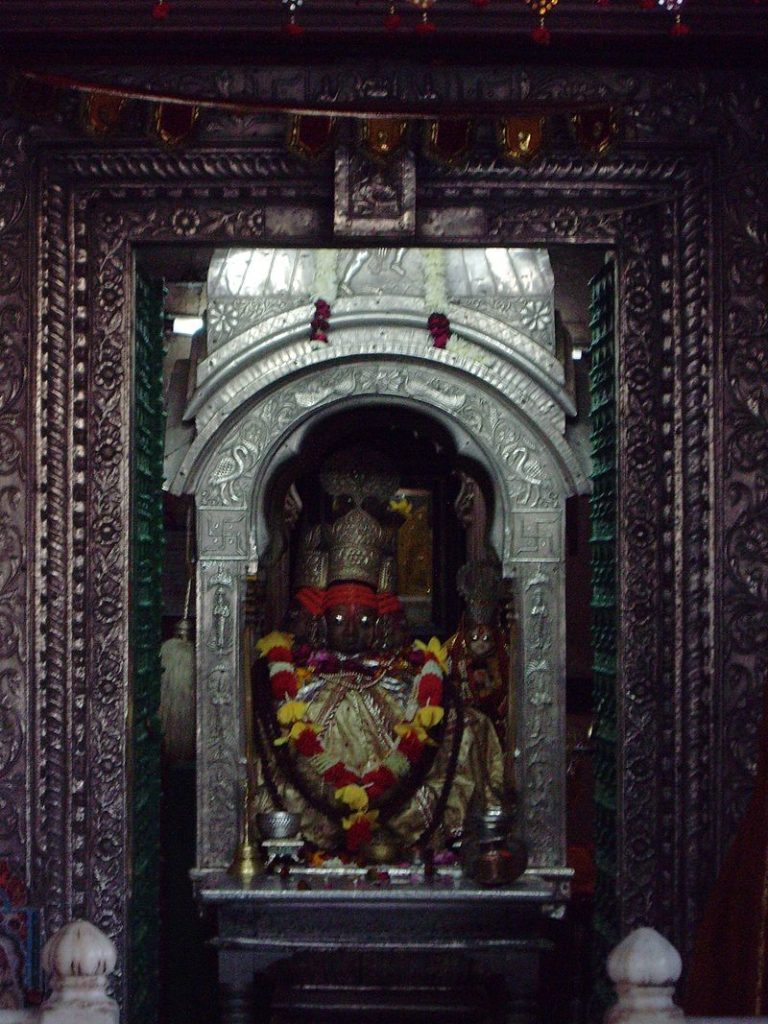 Legends

According to the Hindu scriptures, Lord Brahma had come to the banks of the Pushkar Lake to perform a yajna or fire sacrifice. His wife Savitri, however, was not present. He thus requested Lord Indra to find a suitable bride for him. Indra complied and brought him Gayatri, the goddess of milk. As Lord Brahma performed the yajna, however, Savitri arrived and was angry at the sight of Gayatri beside her husband. She thus cursed Lord Brahma to never be worshipped, a curse later mitigated to his worship only being permitted in Pushkar.
Gayatri, with her new powers following the yajna, further modified Savitri's curse and made Pushkar the king among all pilgrimage sites. The scriptures thus regard the Brahma temple, Pushkar, as the only temple dedicated to Lord Brahma. While a few other Brahma temples do exist today, Hindus regard this Brahma temple as the holiest among them.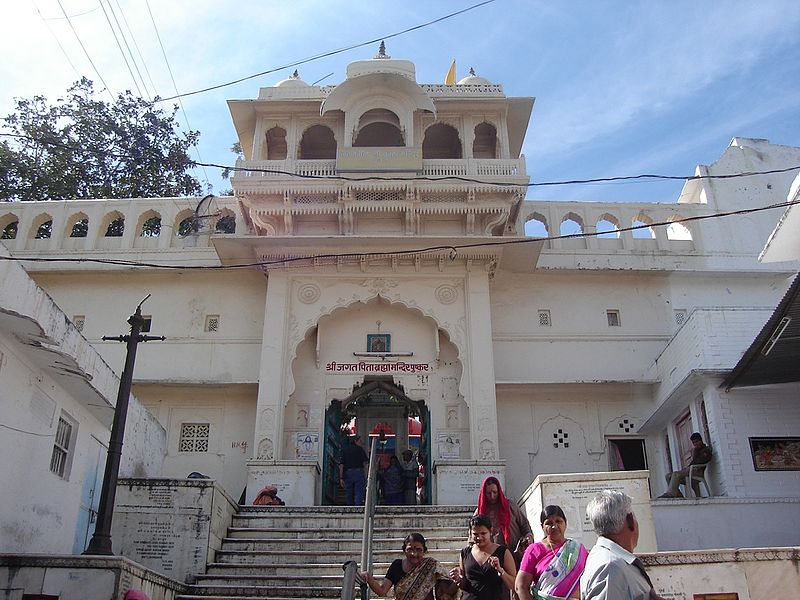 Facts About Visiting Brahma Temple

The Brahma temple is open for worship between 6:30 AM and 8:30 PM in winter and between 6:00 AM and 9:00 PM in summer, with an interval from 1:30 PM to 3:00 PM.
The best time to visit Ajmer Pushkar Brahma Temple is between September and December, as the weather is usually pleasant then.
Only sanyasis, or ascetics, are permitted to worship the idol of Lord Brahma. Pilgrims, therefore, give their offerings to a sanyasi in the temple's outer hall.
A visit to the Brahma temple Pushkar Rajasthan first requires a sacred bath in the Pushkar Lake. Afterwards, it is customary to pay homage at the nearby Gayatri temple as well.
Kartik Poornima, a full moon night that falls between October and November, marks a religious festival dedicated to Lord Brahma. On this day, thousands of pilgrims flock to bathe in the Pushkar Lake and offer prayers. The famous Pushkar Camel Fair is also held on this day.
How To Reach And Where To Stay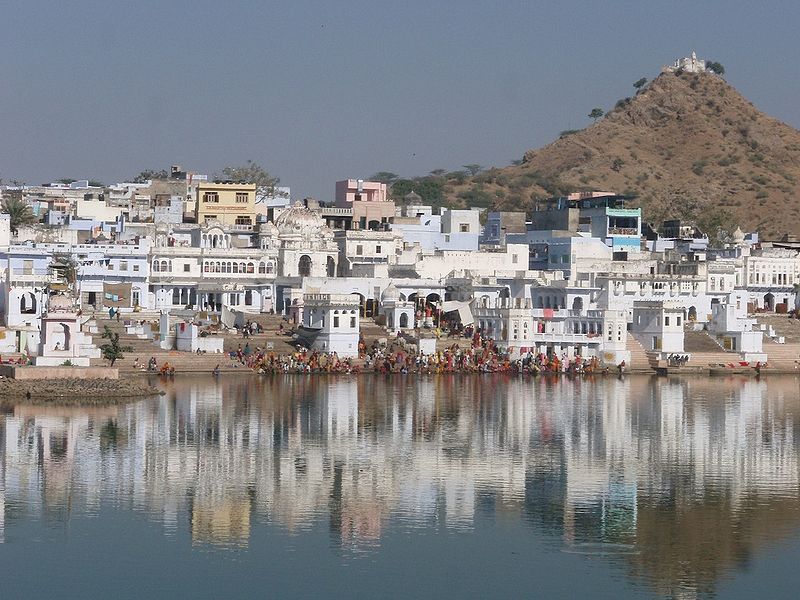 The town of Pushkar is situated 11 kilometres from Ajmer, 140 kilometres from Jaipur and 390 kilometres from Delhi. The nearest airport is in Jaipur, from where you can take a bus. In addition, regular bus services ply to and from towns like Ajmer and Marwar. There is also a railway station at Ajmer for those who wish to come by train. From Ajmer, you can take a bus or hire a car.
Pushkar offers a variety of accommodation options for its guests, ranging from budget to high-end. The tariff may vary and usually escalates during the Pushkar Camel Fair. Some of the best hotels in Pushkar include Hotel Everest, Hotel New Park, and The Green House Resort.

A visit to this beautiful marble temple with its rich history and profound holiness will refresh the mind of pilgrim and tourist alike. This is an absolute must-see for those who wish to experience the true spirit of Rajasthan.