This is a Shiva temple, that is also famously known as the Saneeswaran temple. A huge number of people visit the Thirunallar Temple to worship Saneeswara and get relief from Shani Dosha.
The Thirunallar temple Is located in the Karaikal district of Pondicherry. It is a Shiva temple, and the main deity is Dharbaranyeswarar. This temple also has a shrine dedicated to Saneeswara. It is one of the Navagrahastalam.
Thirunallar Temple History
There are presently no records about this temple's history. However, an incident in the life of Thirugnanasampanthar helps established the antiquity of this temple. This Saivite poet lived in the 7th century and converted a Pandya King back to Saivism from Jainism. In this episode, he used a song he composed in front of Lord Dharbaranyeswarar at Thirunallar. Hence, the Thirunallar temple must have been in existence by the 7th century.
The Many Legends of Thirunallar Temple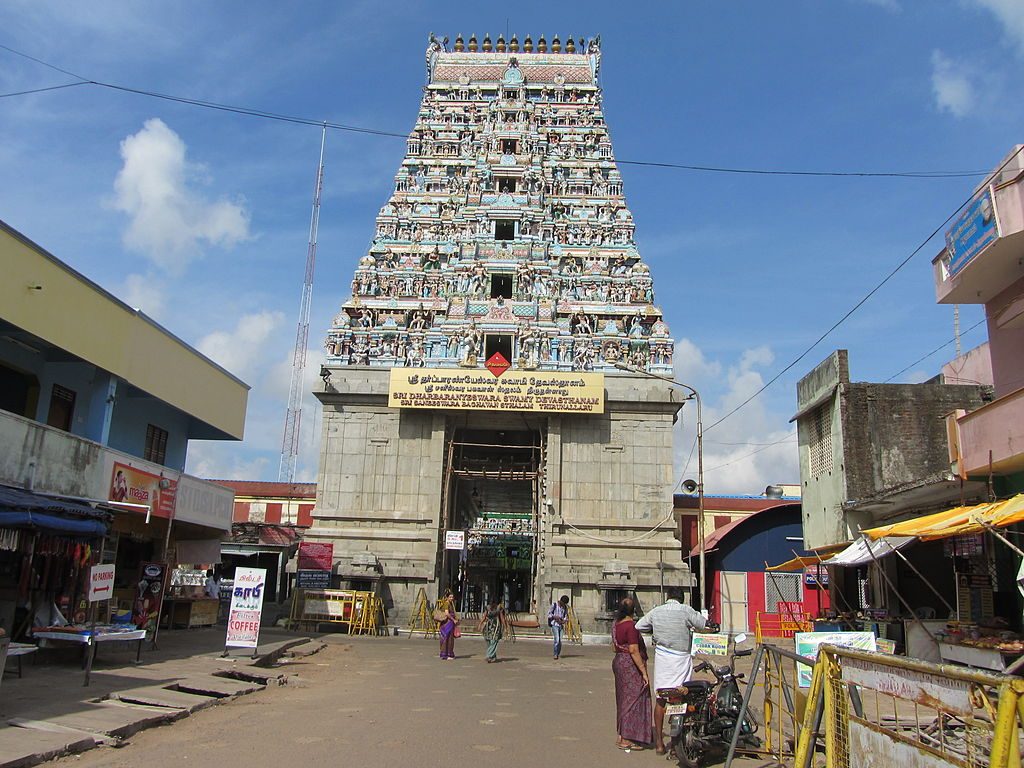 Here are a few interesting stories about this Temple.
Dharbaranya
This region was once a forest of Dharba grass. So the old name of this place is Dharbaranya. This temple's Shiva lingam was discovered when this land was ploughed for cultivation. Apparently, the linga still has the marks of the grass. Hence, the Lord is named Dharbaranyeswarar.
Nala Gets Relief from Shani Dosha
Affected by Shani Dosha, King Nala lost his kingdom, his wife, and children. He worshipped Lord Shiva at Thirunallar Temple and got respite from Shani Dosha.
Nala was healed (aru in Tamil) of all his afflictions here. This is how this place got the name Nallaru.
The Curse of the Kalinga king Undone
Once a ruler of Kalinga incurred a curse. The king along with his wife and son transformed into elephants. Sage Narada pitied them and advised them to pray at the Thirunallar temple. When a few drops of water from the Brahma theertham at this temple fell on them, they returned to their human forms.
Release From Go Hatya Dosha
Once a king gifted cows to many Brahmins. Two of the Brahmins began to fight over which of the cows was superior. They began beating each other with heavy sticks. Unfortunately, one of them hit a cow on the head and it died. To compensate for the sin of killing a cow, the Brahmin took a bath in the Hamsa theertham of the Thirunallar temple. All his sins were washed away.
There are many more such legends about the Thirunallar Temple attesting to its greatness and antiquity.
Tirunallar Dharbaranyeswarar Temple
This is an East-facing temple, with a seven-tiered rajagopuram towering over the entrance. It has a mandapa or hall, dwajasthambam, balipeetam, the main shrine, and sub-shrines.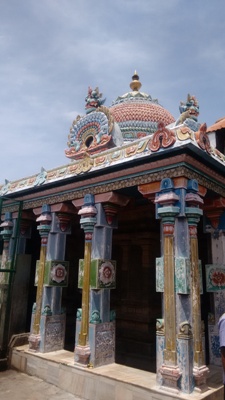 When you enter the Thirunallar temple, you will pass the temple's flower garden, the idols of the 63 nayanars, a small shrine dedicated to Nala. Then you will reach the gold-plated Dwajasthambam in front of the main shrine. The Saneeswara shrine is to the left of this main shrine.
On the walls of the circumambulatory path, you will see small shrines for Karpaka Vinayakar and Kalathinathar. There are also images of the four important Shaivite saint poets.
The Deities of Thirunallar Temple
This is a Shiva Temple. The main deity is Dharbaranyeswarar, in the form of a Shiva Linga. There is a separate shrine for his consort, Pranambikai. There is also a shrine for Lord Shaneshwara. He is facing East, and stands in a two-handed form, gracing devotees. Karpaka Vinayakar, Kalathinatha, Subramanya, and Swarna Vinayaka are other deities in this temple.
The Parihara Sthalam for Shani Dosham
This Navagraha Sthala is dedicated to Shani or Saturn. In fact, this temple is known as Thirunallar Saneeswara Temple. On Saturdays, a large number of people come to worship Saneeswara. Devotees affected by Shani Dosha pray to Saneeswaran here and then take a bath in the Nala Theertham. This helps to get rid of the bad effects of one's past karma.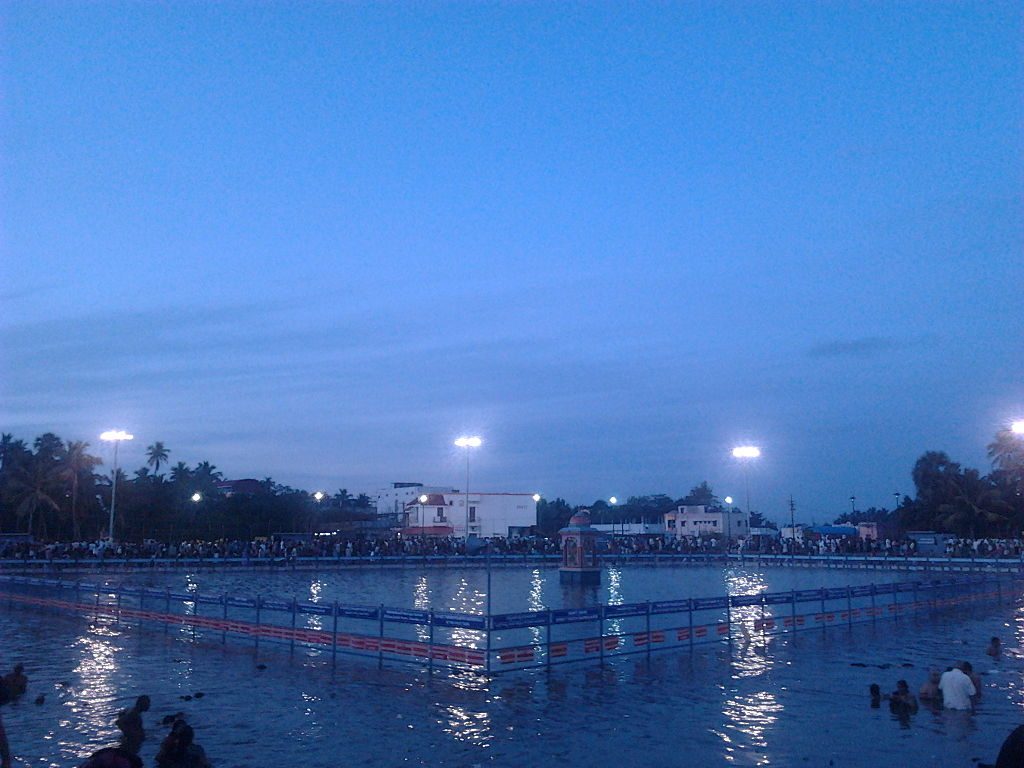 Thirunallar Temple Timings
You can visit this temple from 6:00 am in the morning until 1:00 pm and then from 4:00 pm to 9:00 pm. The temple's 18-day Brahmotsavam occurs in the Tamil month of Vaikasi (May-June). The Sani Peyarchi or Saturn's transit from one Rasi to another is also a special occasion here.
Why Visit the Thirunallar Temple?
The Dharbaranyeswarar temple, also known as Thirunallar temple, is an important place for Saivites. It is a Padal Petra Sthalam, a Shiva Temple praised in the hymns of the nayanars. The Thirunallar temple is also one of the Saptha Vidanga temples. In these seven temples, Lord Shiva is present in the Somaskanda form, with a Maragatha lingam in front.
Each of these seven deities has its own unique dance form. In Thirunallar temple, the dance form is Unmattha Nadanam or the dance of a madman. It is also an important remedial temple for those affected by Shani Dosha and other malefic effects of planets.
You can get buses from Chennai to Thirunallar. You can also take a train to Mayiladuthurai and then travel by bus to Thirunallar. Visit this temple and get the blessings of Dharbaranyeswarar and Saneeswara.