All you Lord Ganesh's devotees, planning to go on a religious tour with your family, or have a dire wish which you want the fulfilment of, or facing odds in the way of achieving parenthood, must keep a pilgrimage to Siddhivinayak temple Mumbai in the top spot in your itinerary. In no way, can you progress on your pious sojourn without the blessings of Lord Siddhivinayak.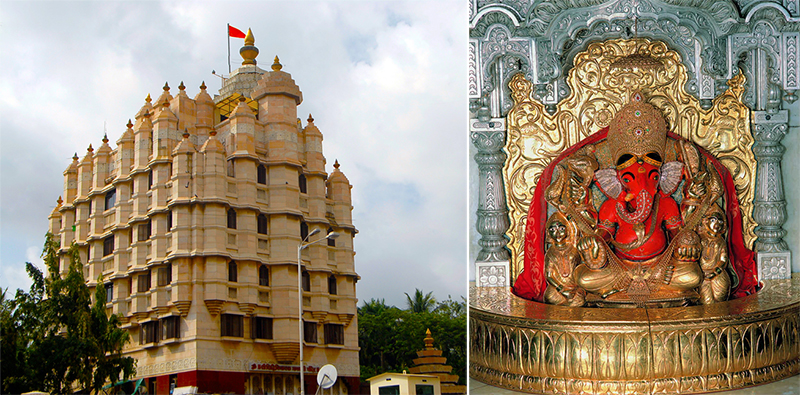 Since, the birth of the Hindu religion, Lord Ganesha is prayed at the onset of any new activity or a new relationship. Only with Ganesha's blessings, a devotee can successfully complete the task in hand. Lord Ganesh is considered to be the first God and is prayed ahead of all other 36 crore Gods of Hindu mythology, even before Lord Vishnu and Shiva. Therefore, Lord Ganesha is known as Lord of All Beginnings.

History

The first Siddhivinayak temple was built by a contractor Laxman Vithu Patil under the sponsorship of Late Deubai Patil, of Agri Samaj, in 1801. She was a big devotee of Lord Ganesh. Though she was rich, she was childless and dedicated herself to social causes. One day, when she was praying to Lord Ganesh, she wished for all ladies who don't have the pleasure of a child to be blessed with children when they come and pray to the Lord at Siddhivinayak Mandir, Mumbai.
In subsequent years, Patil's wishes were answered by Lord Ganesha. Following which followers from all around India would throng into the temple doors, and sing and dance at Ganesha's songs at the fulfilment of their wishes. Gradually, the Lord Siddhivinayak came to be known as " Navasacha Ganpati" or "Navasala Ganpati" in Marathi, which means 'Ganpati bestows blessings whenever someone wishes with generosity and humbleness.'
What Happens Next?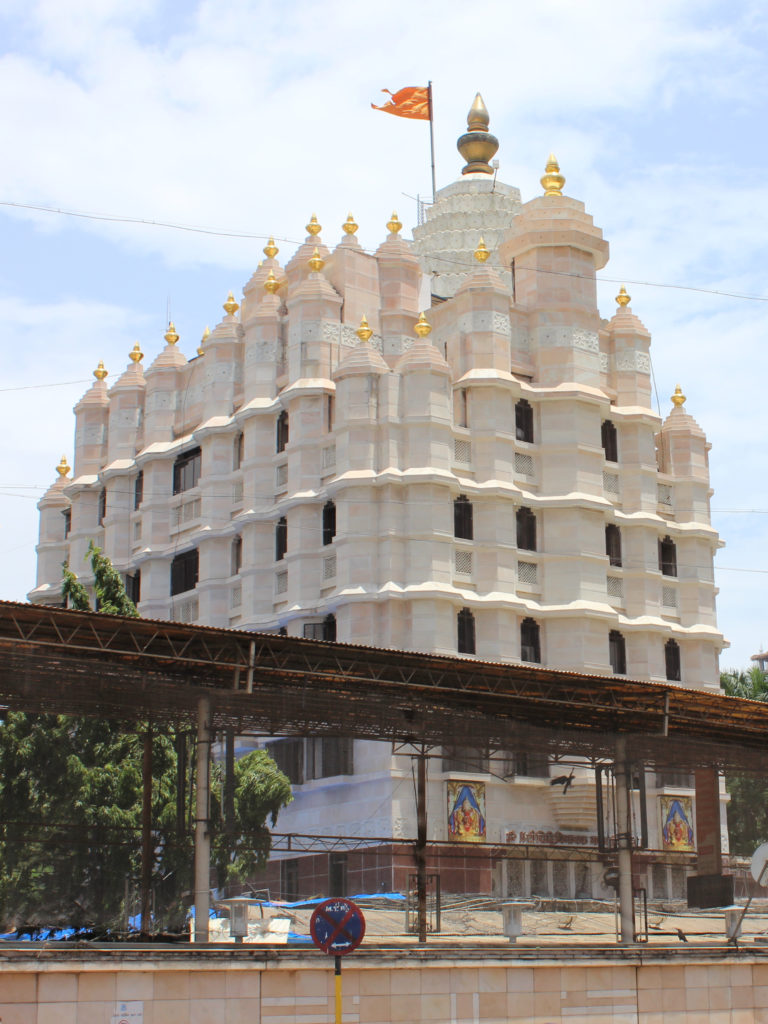 The first Siddhivinayak temple was built by Swami Ramakrishna Jambhekar Maharaj. He is a disciple of Hindu guru Swami Akkalkot Samarth. He was a big devotee of Lord Ganesha. Swami Jambhekar foretold that after 21 years a Mandar tree would grow at the place he buried an idol of Ganesha. On the branches, would stand the idol of Lord Swayambhu, and large numbers of devotees would flock the temple from then on.

The predictions came true and a Ganesh temple was constructed on the spot. Late Priest Govind Chintaman Pathak looked after the temple, on the instructions of Swami Jambhekar.

As prophesied by Swami Jambhekar, by 1975, the temple became too popular to let a large number of devotees get a proper peek at Lord Ganesha, through the two small doors of the temple. Hence, a new temple was built in 1801 by Late Mrs Patil. The final renovation happened in 1990, in association with the Maharashtra Government.

Mythology

The legend says, when Brahma was busy creating the world, Lord Vishnu fell asleep. During his sleep, two demons transpired from his ears. These demons, Madhu and Kaitabha, started destroying heaven and disturbing Gods, Goddesses, and Sages. They all prayed to Vishnu to kill these demons. Lord Vishnu fought them for 5000 years but to no avail. Then Brahma suggested that he should worship Lord Ganesha, and only he can kill these demons. Lord Vishnu agreed to the advice of Lord Brahma and worshipped Ganesha. Impressed by his prayers, Lord Ganesha blessed him with Siddhi. With her, Lord Vishnu was able to kill the demons. Therefore, the point where Lord Vishnu made atonement, is known as 'Siddhatek' and Lord Ganesha, who created Siddhi, is known as 'Siddhvinayak' or 'Creator of Siddhi'.
Diety

The only deity of the temple is Lord Ganesha, made out of one single black stone. The idol is both two and a half feet in width and length. The most outstanding feature of this deity is the tilt of the trunk to the right side. The idol has four hands. The upper hands hold a lotus and an axe and the lower hands hold holy beads and a bowl full of Lord Ganesha's favourite sweet, Modak. There is a snake around the neck of the lord, resembling a garland. Goddesses Riddhi and Siddhi emerge from both sides of Lord Ganesha, which shows that he is the God of sanctity, fulfilment, prosperity and wealth. There is an eye on the forehead of the deity, which resembles the third eye of Lord Shiva, Ganesha's father.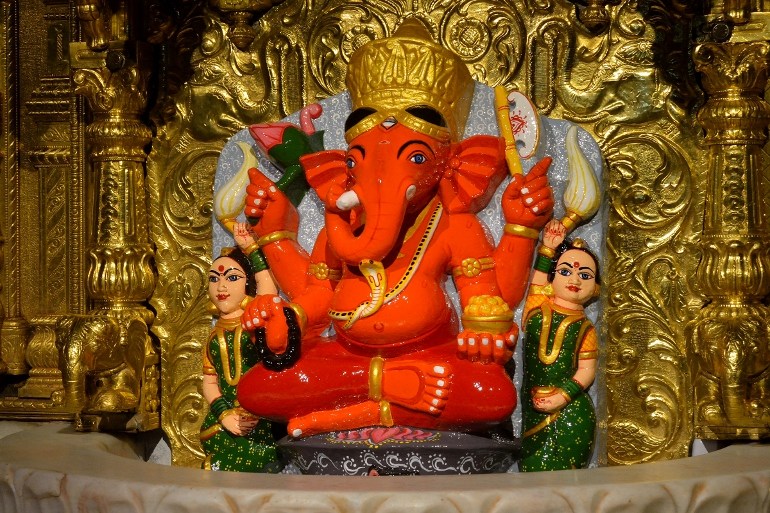 TThere is one Hanuman Mandir in the Siddhivinayak Temple complex. In 1952, during a road extension project near Elphinstone Road, a structure was taken out of the ground. This was a Hanuman idol. A shrine was built to place the idol at Siddivinayak temple.

Architecture

The modern Siddhivinayak temple in Dadar is a six-story, multi-angular temple complex made up of white marble and pink granite. It has been modelled on The Shiva Temple at Ambernath. The main central dome of the temple is made up of gold. The other smaller crowns that surround the main dome is made of gold and panchdhatu metals. There are three entrances, each 13 feet high, to the main sanctum sanctorum. The height of the gate facilitates a view of the idol from the main entrance hall and the mezzanine floor at the same time, even when there are thousands of devotees in attendance. Walls of the six-story complex leads to the centre in a circling manner which enables enough open space in the centre to fit thousands of devotees.

The tall wooden gates which lead to the sanctum are carved with images of Ashtavinayak ( 8 forms of Lord Ganesha). The inner roof of the sanctum is plated with gold. The holy Kalash is a gold plated, dome-shaped structure placed at the pinnacle of the temple. It is of immense religious importance.

Timings Of Siddhivinayak temple
As per Siddhivinayak temple timings, Tuesday is a special day and elaborate poojas take place on this day with special timings. On a regular day, puja starts at 5:30 in the morning and continues till 6 p.m. After that, the door is kept open for the public visit until 12: 15 p.m. At 12: 15, Lord Ganesha is offered Naivedyam. Post lunch, the gates are again opened for general public till 7: 20 pm in the evening.

At 7: 20 p.m. evening, Aarti takes place, where all devotees sing Aarti in unison. Aarti continues until 8:00 pm. After this, the idol is again set for public view till 9:50 p.m. At 9:50 p.m., Shej Aarti is performed. This is the last aarti before the Lord goes to bed, hence known as Shej, i.e. 'bed' + aarti. After this, the door opens only on the next day at 5: 30 am in the morning. After Shej Aarti, the whole temple complex closes down.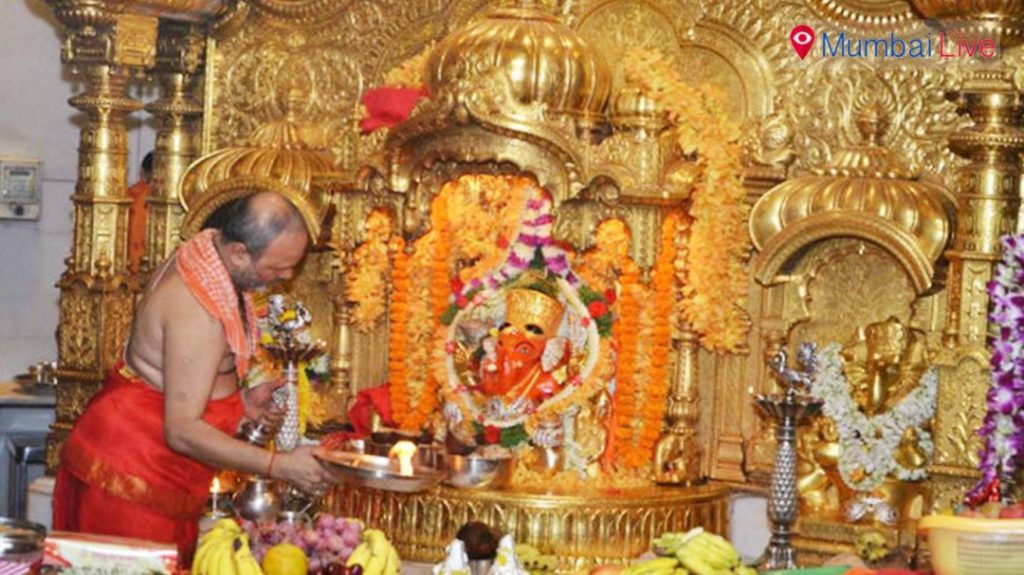 A special schedule is followed on Tuesdays. On Tuesdays, morning prayer starts at 3:15 a.m. and continues till 4: 45 a.m. After which, morning aarti takes place at 5: 00 a.m and lasts for half an hour. Morning darshan starts from 5: 30 and breaks at the lunchtime at 12: 15 p.m. Lord Ganesha is offered Naivedyam and then the doors are kept open till 8:45 p.m. for devotees. At 9: 30 p.m., night aarti is performed. Following which, from 8:45 till 10 p.m, doors remain closed, darshan is only possible from a distance at this hour. The door is closed for the public view after the aarti. The Shej Aarti happens after midnight at 12: 30 a.m. on Tuesdays, following which the Lord is put to sleep.

Timings On Special Occasions
On special occasions like Vinayak Chaturthi, Sankashti Chaturthi, Ganesh Jayanti, and Bhadrapad Shree Ganesh Chaturthi, special timings are followed. On these days, pujas are elaborate and have a longer time slot, especially in the afternoon. Pooja, Abhishek, Naivedyam, and Aarti starts at 10:45 am and end at 1:00 p.m.

How to Reach Siddhivinayak Temple

Chhatrapati Shivaji International Airport at Santacruz is one of the biggest airports in India and is linked to all major cities around the world. There are numerous railway stations in Mumbai, like Chhatrapati Shivaji Terminus(CST), Bandra Terminus, Borivali Terminus, and Lokmanya Tilak terminus, which are well connected to almost all parts of India.

To reach the temple you can take a taxi, which would cost you anything around 150 to 200 INR. But a cheaper option is the Mumbai local train. For that, you will have to get down at Dadar station. You can catch a local to Dadar from CST or Victoria Terminus if that is close to you. A ticket to Dadar would cost you up to 20-30 rupees maximum. From Dadar West, you can take a shuttle cab to Siddhivinayak temple, Prabhadevi, at 20 rupees.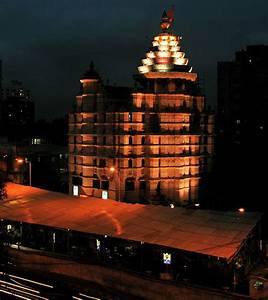 Hotels near Siddhivinayak temple
Hotel Amigo and Hotel Kohinoor Park are 1 km away from Siddhivinayak Temple. OYO hotels like Hotel Banjara and Kohinoor ATC are less than 1 km from the temple. For better comfort and luxury, you can choose from St. Regis, Taj Lands End and ITC Grand in central Mumbai.
Places to visit in Mumbai

Mumbai is a beautiful city full of attractions that you have to experience during your visit. You can't miss Gateway of India, Marine Drive, Worli Sea Link and Mani Bhavan Gandhi Museum if you are there to enjoy and have fun. If you are on a pilgrimage, then Mumbadevi temple in Zaveri Bazaar should be second on your list after Siddhivinayak temple. It is the oldest temple of Mumbai and even the city get its name from there. Mahalaxmi temple, ISKCON temple, and Balaji temple are some of the most famous temples of Mumbai. Additionally, if you are visiting Mumbai in summers and want to enjoy the sea, you can go to beaches like Chowpatty, Versova, and Juhu.