Krishna or Lord Krishna was the eighth incarnation of Lord Vishnu. Various texts such as the Mahabharata, the Bhagavad Gita, the Harivamsa, and the Puranas describe the story of his birth and his life. He belonged to the pastoral Yadavas. As per one tale, Vishnu one day pulled two strands of his hair from his head. One strand was white and the other was black. He placed the black hair in the womb of Devaki. Devaki was the wife of Vasudeva and a princess of Mathura. Thus, Krishna was born into the Pandava family. He fulfiled the prophecy of Krishna's birth mentioned in Mahabharata and other texts.

Kamsa – Krishna's Uncle

Kamsa was a wicked man. He was born of a human mother but his father was a demon in disguise. He was the king of the Vrishni Kingdom. However, he was not the rightful king. Kamsa was not the heir of old King Ugrasena. He had forcibly overthrown Ugrasena. A sage had given him a prophecy. The prophecy said that as punishment for his wicked deeds he was fated to be killed by the eighth son of his sister Devaki. Kamsa did not believe in fate. He felt that his special birth exempted him from mortal concerns such as fate. This premonition of Krishna's birth mentioned in Mahabharata troubled Kamsa a lot.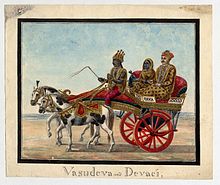 Marriage Of Vasudeva And Devaki – Krishna Birth In Mahabharata

When Krishna's parents Devaki and Vasudeva were married, Kamsa the brother of Devaki drove them home. It was a joyous procession. Suddenly a voice rang out from the sky. The voice berated Kamsa for driving the chariot of his sister not knowing that her eighth child would kill him. Kamsa drew his sword to kill Devaki.
Vasudeva intervened and pleaded with Kamsa not to kill Devaki. He tried to reason with Kamsa based on the fact that death was but a change of bodies and that it was inevitable. Kamsa, however, was not of the mind to pay heed to Vasudeva's words. Vasudeva promised that he and Devaki would hand over each of their children to him to do as he wished with them. Kamsa relented. When Vasudeva and Devaki brought their firstborn child to him he spared the baby. However, the Sage Narada told Kamsa that the appearance of Krishna was imminent. This made him upset. He reasoned that any child might be Krishna.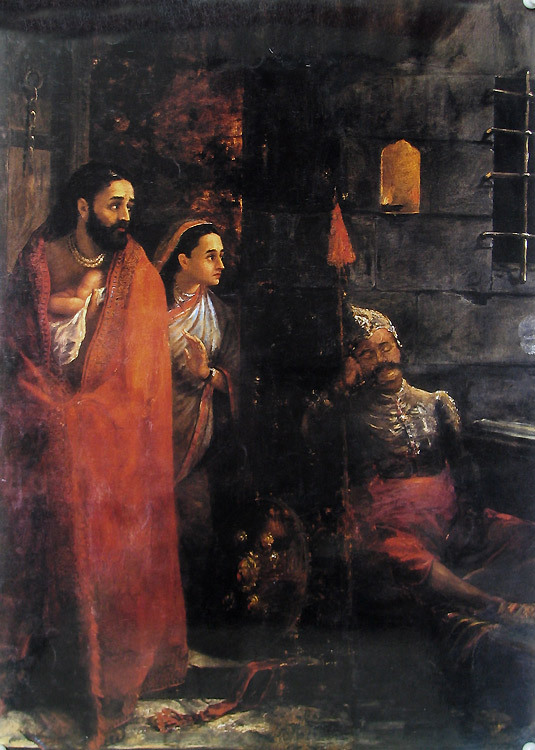 Prophecy Of Krishna's Birth Mentioned In Mahabharata Comes True

He imprisoned Vasudeva and Devaki and killed their children. Every year Devaki gave birth to a child and he killed it. Kamsa believed that the seventh pregnancy was a miscarriage. However, the unborn child was transferred to the womb of another woman and was born as Balarama.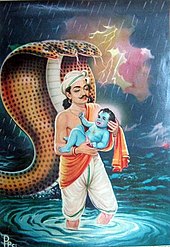 When the eighth child was born it was indeed Lord Krishna. He appeared before Vasudeva and Devaki and revealed his true form. Krishna told them to exchange him with a female child born to Yashodha in a place called Gokula nearby. He then transformed back into a baby. Vasudeva, who was well guarded, was able to escape with the help of the divine powers of Lord Krishna. He escaped from the prison, made the exchange, and then returned to the prison undetected.
When Kamsa heard the baby's cries he feared for his life. He rushed in to kill the baby but the baby flew into the air in the form of the demigoddess Maya and told Kamsa that the child had been born elsewhere and that he would be unable to kill him. Kamsa was furious. He tried to kill all the male children born in the last ten days.

Krishna's Childhood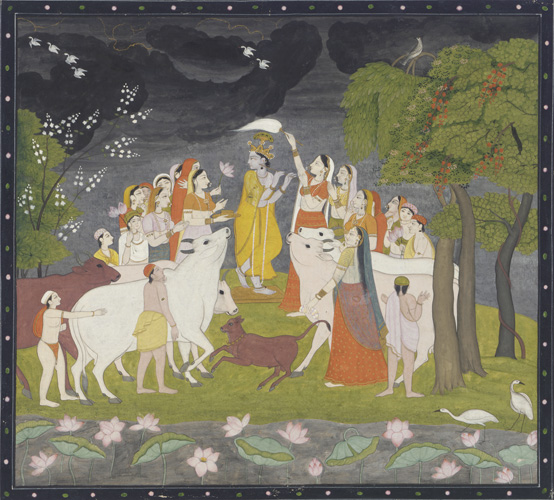 However, the baby Krishna was not harmed. He grew up having an idyllic childhood in the pastoral Gokula. Krishna had many childhood adventures in Vrindavan that have been described in the ancient texts. Kamsa tried repeatedly to harm the child. The witch Putana attempted to kill him. She appeared in Vrindavan as a beautiful young woman. Putana offered to breastfeed the baby Krishna with the permission of Yashodha. She had smeared poison on her breasts. Krishna sucked her breast and also her life out. When she died her body changed back to its original form of a demoness.
Many demons tried to attack the child with the intention to kill him. The demon Trnavarta appeared as a whirlwind. He tried to kidnap Krishna and destroy him in the sky. Aghasura the brother of Putana also appeared as a serpent in front of Krishna and his friends. Krishna killed him also. There were more such attacks. Krishna and his brother Balarama killed all the demons. He grew up to kill Kamsa as per the story of Krishna's birth mentioned in Mahabharata and also described in other texts came true.