Located in the middle of a serene lake in Kasaragod District of Kerala, the beautiful Ananthapura Lake Temple beckons visitors to come and have a Darshan of the Lord. Just like in the temple at Thiruvananthapuram. the name of this deity is also Anantha Padmanabha Swamy.
The Lovely Temple in the Middle of a Lake
Kerala is a beautiful place, still preserving its natural riches. It is also a state famous for its many legendary temples like Sabarimala, Guruvayoor, and Sri Anantha Padmanabha Swamy Temple in Thiruvananthapuram Still, did you know there is another Anantha Padmanabha Swamy Temple, in the Northern corner of the state?
Right on the Kerala-Karnataka border, in the Village of Anantapur, there is a lovely Vishnu Temple located in the centre of a lake. This Ananthapura Lake Temple is unique in Kerala as it is the state's only lake temple.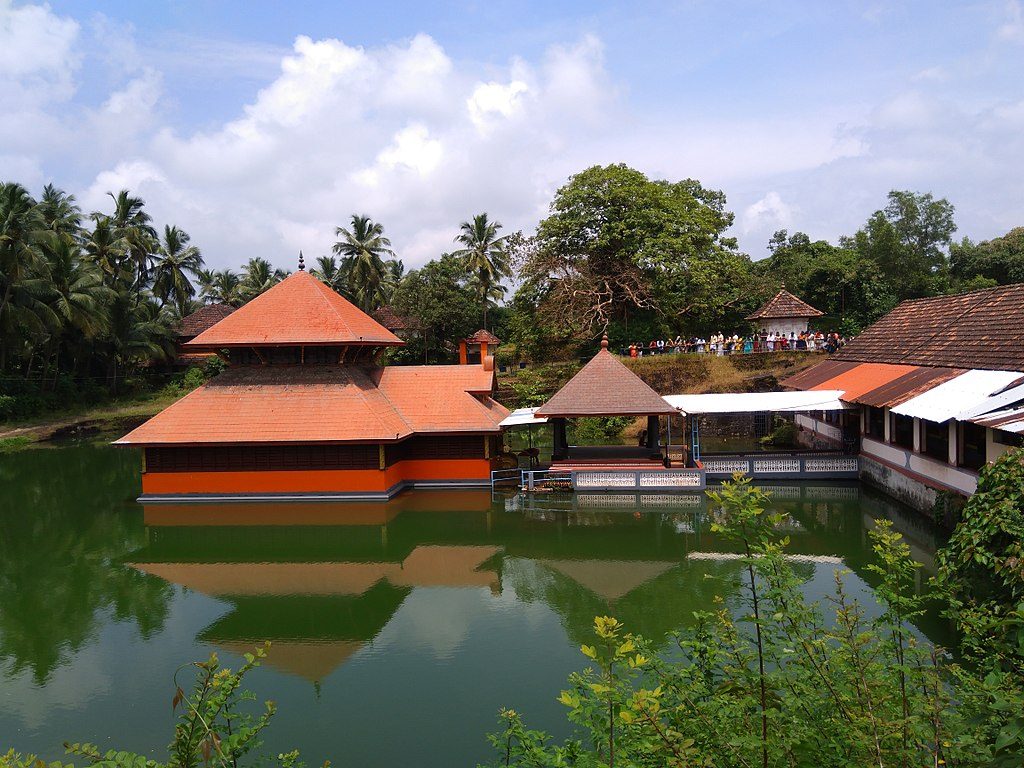 Ananthapura Lake Temple History
Legends and history are intertwined in the story of this temple. Still, it is believed that this temple was constructed in the 9th century. This region is also associated with the great Tulu Saint, Vilwamangalam Swamy. The deity, Lord Vishnu, is in a seated position on his large serpent Anantha.
Ananthapura Lake Temple Temple Architecture
Ananthapura Lake is rectangular in shape. You can see ruins of temple structures around this lake, thus this region may have once had a huge temple complex. What remains now is the attractive temple in the middle.
Ananthapura Temple is in the typical Kerala style, with sloping red roofs. It has a sreekovil or the main sanctum sanctorum, thitapalli, a Mukta mantapa or porch, and a Jala Durga shrine.
A footbridge across the lake leads to the namaskara mantapa. This hall's ceiling has detailed wood carvings. In the shrine, Lord Vishnu is sitting on Anantha, the large hooded serpent. On either side of him are his consorts, Bhudevi and Sridevi. Garuda and Hanuman are both sitting in front him, with folded hands. Mahavishnu's attendants and gatekeepers, Jaya and Vijaya, stand guard at the entrance to the shrine.
Traditionally, sculptors use materials like wood, rope and plant fiber, and other natural items to make the idols. They also use natural extracts from plant sources as paint. The name of this detailed process of making these idols is katu-sarkara Yogam.
However, many of the current idols are made of Panchaloha. These idols were donated to the Ananthapura Lake Temple, Kerala by Kanchi Shankaracharya Sri Jayendra Saraswathi Swamy.
The Legend of Vilwamangalam Swamy and The Young Boy
Centuries ago, there was a Tulu saint in this region, a Brahmin called Vilwamangalam. This Brahmin spent his days in meditation and in worshipping Lord Krishna. One day, a small boy came to his door. The boy said he was an orphan, so Vilwamangalam Swamy took pity on him and asked him to stay.
The young boy stayed and helped him in all his daily routines. However, he was a mischievous young child, and always indulged in many frivolous games and pranks. One day, Vilwamangalam Swamy was performing a puja. The boy's play and mischief disturbed his concentration. So, when the child came near him, the saint pushed him away impatiently, with the back of his hand. As per custom, it is a great insult if you push someone away, especially with the back of your hand. So, the boy left the place.
The saint went in search of the boy, traced his footprints to a cave nearby and went in. A voice announced that the sage would see him in Ananthankadu, the Forest of Anantha. Bilwamangal then reached, today's, Thiruvananthapuram and saw a tree fall down and take the shape of Ananthapadmanabhan. The boy (Krishna) came here from Ananthapura. So, many people consider this temple to be the original site or moolasthana of Padmanabhaswamy.
Though the Thiruvananthapuram Temple is much older, some believe that this tale is related to one of the times when the temple was reconstructed/renovated.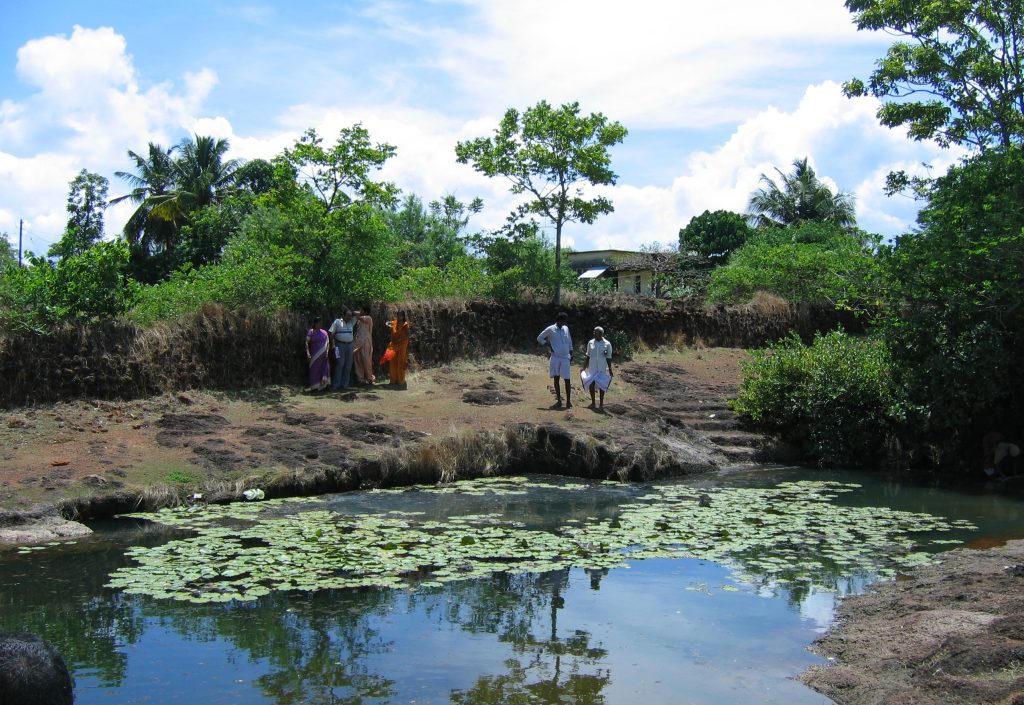 Some Interesting Details About Ananthapura Lake Temple
Ananthapura Lake: This lake is fed by a perennial spring, it doesn't dry out even when the region around it suffers from drought
Ananthapura Lake Temple Darshan Timings: Unlike many other temples in Kerala, this temple is open to tourists and devotees alike. The temple is open from 5:30 am to 12:30 pm, and then again opens at 5:30 pm upto 7:30 pm.
Babiya, the Crocodile Guardian: Have you heard of Babiya, the vegetarian crocodile? Ananthapura Lake Temple, tradition says, has always been guarded by a crocodile. When one dies, another appears, no one knows from where. There are no large water bodies nearby where crocodiles live. These crocodiles always eat only the temple food offered to them by a temple priest. Babiya Feeding timings are 8:00 am and 12:00 pm.
Ananthapura Lake Temple is a must-visit for devotees and tourists alike. In a serene setting, surrounded by the waters of the lake and by coconut trees, it is an idyllic location. It is ideal for meditation and worship, as well as a place to relax and soak in the peace and beauty of nature.