The land of temples, Tamil Nadu, is home to numerous ancient temples of religious importance. Head to Thirumanancheri in Nagapattinam District and you will dissolve in the divine power of Kalyanasundareswarar Temple Thirumanancheri. It's also known as Thirumanancheri Udhvaganathar Temple and is the abode of Lord Shiva and Parvathi.

The temple is open for darshan from 6:30 AM to 1:30 PM. Evening timing is 3:30 PM to 8:30 PM. Devotees can also attend Astottaram and Sahasra Namarchana daily from 6:30 AM to 8:30 AM. The location of this temple and it's prominence in the Hindu culture reflects a mythological aura.

The Significance Of Kalyanasundareswarar Temple
This temple enjoys the reputation of Paadal Petra Sthalam among numerous other temples in this part of India. You can know about this in the Medieval Tevaram poems by Tamil Nayanars. Nayanars is a group of 63 saints residing from the 6th to 8th century devoted to Lord Shiva.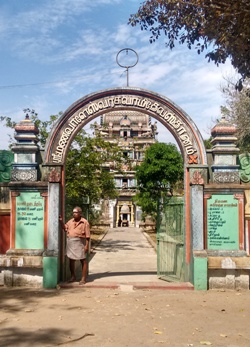 Kalyanasundareswarar Temple Thirumanancheri is famous for solving issues leading to delay in marriage. Devotees swarm the temple throughout the year signifying its importance. There is a strong belief that visiting this temple and offering prayers to Lord Shiva will soon result in marriage.

The History of Kalyanasundareswarar Temple
The story goes like, Parvathi was living at Sage Bharata Muni's Ashram like his daughter. The sage requested Shiva to marry Parvathi. As per Parvathi's wishes, Thirumanancheri is the place of the divine marriage of Shiva and Parvathi. A story states that Parvathi took the form of a cow and Lord Vishnu was the cowherd. A curse bestowed upon her by Rishi Bharata Muni was taken away. Following which she attained her original form and married Shiva. According to the Kalyanasundareswarar Temple history, it was built by the Chola queen Sembiyanmadevi.

For Marriage
Those who visit Thirumanancheri Kalyanasundareswarar Shiva Temple for marriage get a garland that the god and goddess wear. They have to reserve it until marriage and bring it with them while visiting again as a couple.

Numerous devotees also come here to pray for children. You can know the significance of the temple in the hymns composed by Sambandar and Sundarar. Besides, this is the spot where Sundarar probably bathed in the agni theertham.

Birth of Ardhanarisvara
According to legends, Shiva granted half of his body to Parvathi at this place, hence, giving birth to Ardhanarisvara. This temple is also the 25th sthalam on the north side of River Cauvery.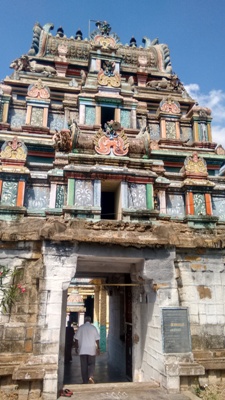 Special Poojas At Kalyanasundareswarar Temple
Devotees can participate in special poojas at Kalyanasundareswarar Temple Thirumanancheri. During every amavasya, devotees offer milk payasam to Mangala Raghu. This is done with the hope to have a child.

Besides, every first day of Tamil month is the time for a special abhishekam. A special abhishekam with Uma maheswara homa takes place for Kalyana Sundara during Sankatahara Chaturthi. Additionally, the same ritual takes place during Poosa Nakshtra days.

Travel Options
Kalyanasundareswarar Temple is conveniently accessible by road from several cities. Besides, there are direct buses available from select cities and towns in South India. Kumbakonam, 29 KM from the temple, is connected to several parts of Tamil Nadu.

As for air travel, Tiruchirapalli Airport is 113 KM away from the temple. Travellers can book taxis from the airport to the temple.

Other Locations
Devotees can also come across the same temple in other places too. Kalyanasundareswarar Temple Nallur is 15 kms away from Kumbakonam. Saptha Sahara Theertham is the holy water here. Shiva is Swayambumurthi in this temple.

Shivalingam in this temple changes its color five times in day. It's also the 20th Shiva Sthalam on the South of River Cauvery in Chozha Nadu.

Kalyanasundareswarar Temple in Chennai is another famous temple dedicated to Lord Shiva.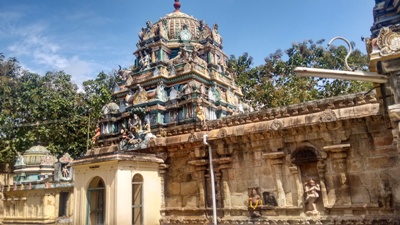 Conclusion
The temple holds its own significance in the Hindu community. Besides, it's truly a magical spot soaked in unique traditions and mystical culture. A visit to this temple will have lasting effects on devotees and bring around a transformation in their lives.

It's a place to form fruitful and lasting marriages and a boon to couples finding difficulty in conceiving a child. The rituals have empowering effects on individuals and make for a prosperous life. So, visit the temple to experience the difference and lasting tranquillity.