Karva Chauth is a puja or vrat observed by North Indian women for the longevity and health of their husbands. There are variations of this festival in all regions of India, but this particular vrat is mainly observed in North India.
The Legends and Rituals of Karva Chauth
In earlier times, men who were merchants or soldiers would travel far from home. The women left at home would pray for their safe return.
This tradition later gave rise to many vrats, with women undertaking fasts and praying for the health of their husbands, which continues to this day.
Karva Chauth is a North Indian form of this ceremony.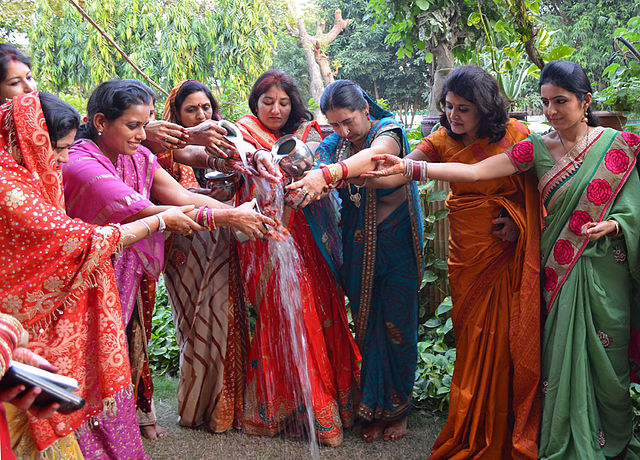 Karva Chauth History
This festival originated in the North West. Women whose husbands were soldiers may have begun this tradition. The name gives a hint of an earlier, different beginning. Karva means pot, and Chauth means fourth. This festival occurs on the fourth day of the dark phase of the moon during the Kartik month. This is also the wheat sowing time for the Rabri crop. As wheat is stored in huge pots called Karva, this festival may also have begun as a prayer for a good crop.
Karva Chauth Story – the Many Legends
There are many stories linked with the observance of this fast:
The Legend of Karva
Karva was a devoted wife and a courageous and resourceful woman. Once, while her husband was bathing in a river, a crocodile seized him. Karva managed to bind the crocodile with cotton yarn but was unable to free her husband. She prayed to Yama the Lord of Death to spare her husband. He refused. Karva threatened to curse Yama who then gave in and freed Karva's husband and sent the crocodile to Yamaloka instead.
The Story of Queen Veeravati
The beautiful Queen Veeravati has seven brothers who adore her. After her marriage, she comes to her parent's house to observe her first Karva Chauth vrat. Her brothers are upset to see her growing weary due to hunger and thirst. They trick her into thinking that the moon has risen long before it actually does, and break her fast.
Soon, news reaches her of her husband's death. When Veeravati learns of the trick, she is distraught and starts running back home, crying bitterly. On the way, she meets
Lord Shiva and Parvati. When Parvati hears the story, she decides the whole thing has been a mistake committed out of love. So Devi Parvati brings Veeravati's husband back to life and tells her to observe the Karva Chauth fast on the next day.
The Mahabharata Story
During their exile the Pandavas and Draupadi experience many difficulties. Further, when Arjuna sets off on a quest for divine weapons, Draupadi is anxious and prays for his safe return. Lord Krishna then tells her of a Vrath or puja observed by Devi Parvati herself. Draupadi then undertakes this (Karva Chauth) vrat.
Savitri and Satyavan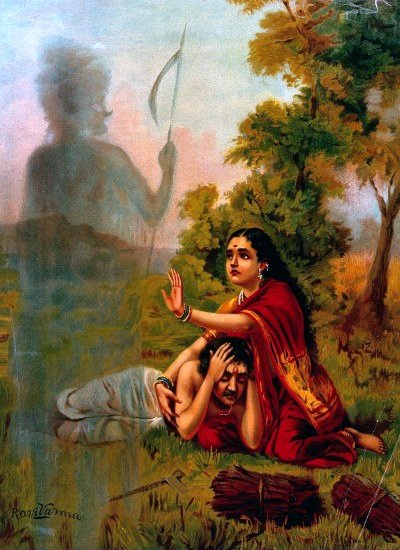 This is an ancient story, told in the Mahabharata. Savitri is a beautiful and intelligent princess who marries Satyavan, the son of a king in exile. She lives with her husband's family in the forest. One day she learns that her husband is fated to die soon. She then keeps him always in her sight. Because of her lifelong self-control, austerity and her devoted service to her husband's family, she is able to see Yama the Lord of Death as he takes her husband's life.
She follows him as he travels back to Yamaloka. He asks her several times to go back but she doesn't. Finally, he tells her that he will grant her a boon but she should not ask for her husband's life. She asks that she should be blessed with a child. Yama grants the boom without thinking. Then he realizes that Savitri had tricked him. As a devoted wife, she will not have a child with anyone other than Satyavan, so he has no choice but to give life to Satayavan. He appreciates the intelligence and perseverance of the young woman and blesses the couple with a long happy life.
These are all the stories that inspired Karva Chauth.
Special Pooja
This is a day of fasting for women. They spend the day before at their parent's house and come back with various gifts. On Karva Chauth day, they wear new clothes, meet and greet other women observing the Karva Chauth vrat, and exchange small gifts. They sing songs related to Karva Chauth and then a storyteller narrates the various stories related to this occasion.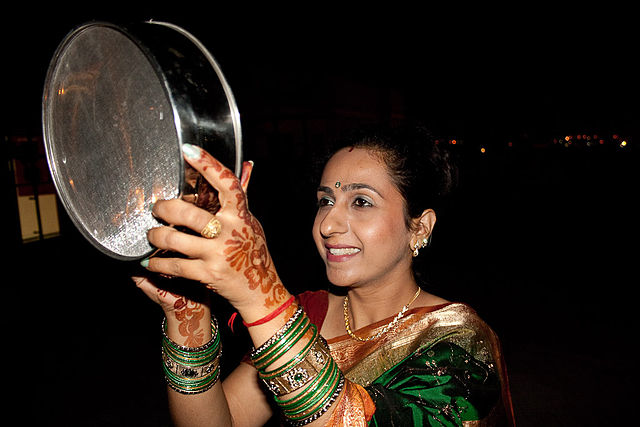 The women perform Karva Chauth Pooja to an idol of Gauri (Parvati) and offer a basket of sweets, puris, namkeens, etc. to the goddess. When the moon rises, the fasting women see the moon directly through a sieve, or through a reflection in the water, and pray for their husband's longevity. Their husbands then give them some water which they drink to break their fast and then have a meal.
Karva Chauth is more than just a vow observed by women for the health of her husband. It gives many women a rare opportunity to get together and share stories, sing and dance, show off their new clothes, and in effect getting a break from their daily routine.